January 14, 2013
Charbonnel et Walker with Sipsmith Sam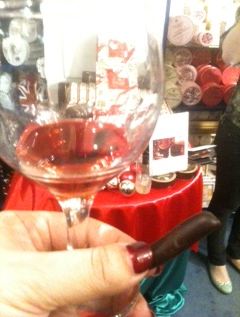 I could not believe my luck when my favourite spirits producer got together with one of my favourite chocolatier and had an event. I absolutely love the Charbonnel et Walker events because for £20 you get fabulous evening of drinks, more chocolate than most folks can finish and a discount if you want to buy stuff.
Charbonnel at Walker have had a few of these before and they have always sold out (at least from what I could tell from how HEAVING the shop was!). All sorts of chocolate lovers come together to experience a new alcohol like port, rum or vodka and spirits lovers come together to learn about and eat some great chocolate.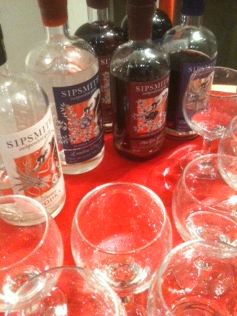 On this evening I was treated to a delightful G&T. I am so very much *not* a G&T kind of girl – possibly because my mother in law was a generous soul when she was alive and that generosity extended to het G&T pouring and to the uninitiated it was perhaps slightly aggressive. I know the G&T is a favourite among slimmers but I just never got in to it. This G&T, however, I had 2 of. It was absolutely gorgeous! Probably because neat, Sipsmith Gin is one of (if not the) best gins in the UK. Granted I haven't had many but it is lush!
Charbonnel et Walker produced their usual dizzying array of chocolates, finishing off with a brand new damson vodka chocolate. I think it could have had more vodka 😉 but then again that is me. There were eight different chocolates if I remember correctly including their popular orange sticks, rose creams, violet creams and more. Their pink champagne truffles are their best sellers and I adore them, always eating one when ever offered 😀
These events, run in the Charbonnel et Walker shop, are more than worth attending. At around £20, they are more than worth that for the drinks alone, but add to that the chocolate *AND* awesome goodie bag at the end, it makes it an irresistible prospect. Get yourself on their Facebook page and make sure you keep an eye out for the next one!