January 11, 2013
Win a ton of Chocolate to Beat the January Blues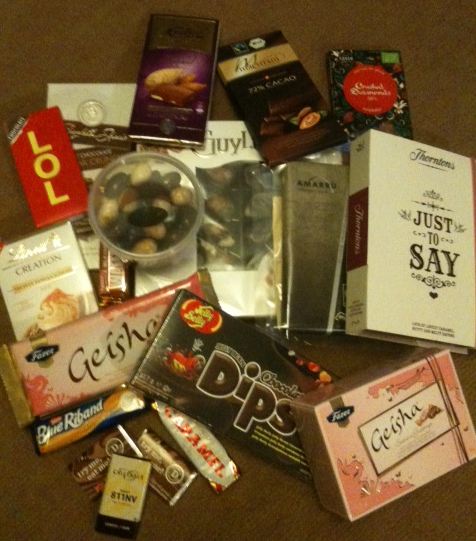 Well, it doesn't weigh a ton but look at all that chocolate! Guylian, Thorntons, Chocolate & Love, Lindt and more are all there and they could all be yours! I have no idea how much it would cost if you went down to the shops to buy all this chocolate but given there seems to be over a kilo of it I am sure it wouldn't be cheap!
I have had a terrible Year of the Dragon, having lost my grandfather, mother in law and almost my husband to food poisoning. Almost every white good in my home decided to break at the same time, I've gained weight and I didn't get a discount on my annual train ticket to London which I have to buy for work. I know I'm broke, stressed and ready for the Chinese New Year when the stars will fly and hopefully things will get better (I am a trained Feng Shui practitioner and know both Flying Stars and Eight Mansions styles) and I assume some of you, my dear readers, are too!
I decided that given how dire my year has been, and how bad some of yours have been given what I've seen on Twitter, that EVERYONE needs a bit of a pick-me-up so what I thought I'd do was have a competition for everyone in the UK (this is so heavy I am fearful of what the cost would be for international shipping).
Leave a comment below about what you are hopeful for in the Year of the Snake (MINIMUM 10 WORDS) and for additional entries:
Like Mostly About Chocolate on Facebook
Follow @MostlyAboutChoc on Twitter
Tweet " I've entered to win a hamper of chocolate from @MostlyAboutChoc because I need it – and you can too at http://bit.ly/WWa0Wg " (daily entry)
I will draw the winner on Sunday January the 20th so there is plenty of time to enter. Remember – only tweeting the competition is eligible for a daily entry so please don't unfollow and refollow me 😉 If you can't see the competition, CLICK HERE
Rules below:
The rules:
1.The competition will finish at noon GMT on Sunday 20th January 2013.
2.The selection of winner will be selected by Rafflecopter and verified by hand to ensure entry complies.
3.Only available to UK mainland addresses.
4.No cash alternative available.
5.I reserve the right to exclude entries that I feel are inappropriate (for example, change the tweet or do not leave the minimum 10 words) or are not in the spirit of the competition.
6.Your details won't be passed onto anyone else and will not be kept in any way.
7.I reserve the right to remove entries that I believe aren't human created or are an attempt to gain an unfair advantage such as automated entries.