September 14, 2011
Debbie's Welsh Cakes Review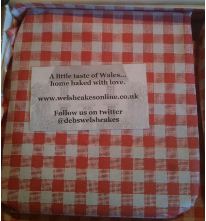 I didn't grow up with Welsh Cakes as my husband did but it was one of the first things my inlaws introduced me to and something my husband cooks for me when he wants something extra special.  Usually we just buy them in the shop in Wales but on occasion I am treated to the freshly cooked real thing.
Welsh cakes are small biscuit made from flour, butter, eggs and sugar (according to my Welsh husband).  They are sometimes also made from lard and there is usually a hint of spice in there and apparently traditionally there is fruit in there.  Until the early 19th century, the Welsh cake was about a 9-inch diameter cake that cooked quickly on a bakestone, a round flat stone placed over a fire.  Apparently originally the bakestone size determined the size of the Welsh cake. The dough was placed on the stone, and cooked until there were evenly browned edges.  These cakes were often apparently cooked when guests were coming around but there was no bread in the house and so became known as poor people's food according to one source.
I got a HUGE box of Debbie's Welsh Cakes which husband and I made short work of.  There were 18 Welsh Cakes in the box, wrapped in cute red and white check pattern paper.  This paper was perfect though as it didn't let the fats of the Welsh Cakes soak through and kept the sugar all in one place.  There were eight round and one heart cake in each wrapped package.  These were brilliant and just what I needed on a weekend when I was quite unwell.
These Welsh Cakes are more familiar to me, being around 7cm in diameter and around 1.5cm thick and sprinkled with sugar.  They are extremely buttery in taste and the usual cinnamon and nutmeg seem to have been held back and not be as full on in order to better support the delicious chocolate chips, giving the perfect balance of spice and chocolate.  Anyone who has been following this blog knows I am no fan of fruit and so I was thrilled to bits to get these chocolate chip Welsh Cakes.  There are plenty of chocolate chips in each one but not too many as they would become rather crunchy if they poked through the dough and ended up cooking on the griddle.  These aren't too crumbly which is likely because of the high butter/fat content given their deliciously buttery flavour and to a certain degree this is both delicious and makes it slightly more chewy which is no bad thing.  Chewy isn't the right word as these melt in your mouth but they are less like a scone which is what husband's Welch Cakes are usually like.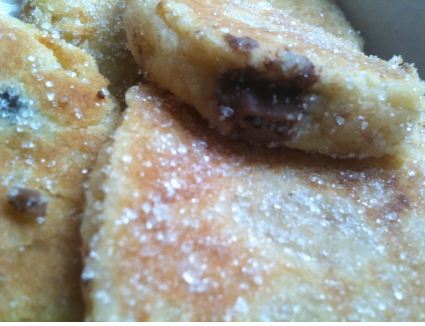 Chocolate chip Welsh Cakes are a new addition to the range and having something clearly baked with love delivered to your door is awesome.  These are heavy, dense Welsh Cakes chock full of love and delicious baking made to a traditional family recipe.  You can buy 18 or 24 at a time, get them as wedding favours or even get them as a care package sent to a student once a month to ensure that at least once a month they eat something that doesn't come out of a microwave.