November 26, 2014
Chococos Three New Truffles Reviewed Get Thee to Winchester (or Swanage)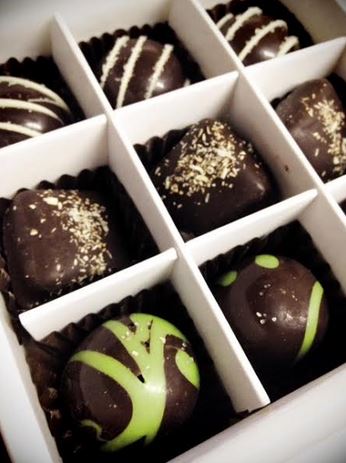 I don't get a lot of Chococo treats because I'm not often in Winchester. If I was I'd probably be popping in for a regular purchase of milk chocolate buttons or perhaps a festive treat at Christmas or Easter or maybe just a lush hot chocolate or fondue. Since I'm not nearby I have to settle for the occasional gift from Chococo 😉
It was a recent gift that I got which really excited me (before I won a new client and work increased my hours, making it a struggle to process images for blogposts so apologies for these >_<) and that was a brand new flavour imagining from Clare.
There were three flavours which were new in this box which meant one for the photo and two to shamelessly eat like the little pig I am 😉 I'm quite grateful to Chococo for sending me these chocolates as I am so far from their shops and congratulations on many more golds as well as the new Winchester shop which is no longer new 😉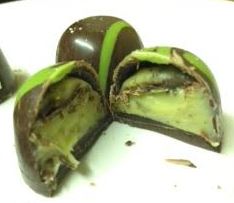 Totally Twisted Nose – Gin and watercress – WILD! This was just an amazingly refreshing flavour with a punch of gin where the juniper was really in the background. The watercress I think added to a bit of a 'freshness' in the flavour in the truffle. The flavour is strong but still moreish, with the gin adding to the alcoholic kick but balanced well against the watercress. There isn't anything offensive about this truffle – just green deliciousness all the way!  Chococo says "This chocolate is the winning flavour from a customer competition we held earlier this year in our Winchester shop to find local Hampshire flavours that we could create a new chocolate with. This creation includes fresh locally grown watercress from The Watercress Co, with farms in both Hampshire & Dorset, and Twisted Nose, watercress-infused gin, craft distilled by Paul of the Winchester Distillery. We have blended these two ingredients with fresh Dorset cream & white chocolate from the Dominican Republic, before piping into dark chocolate shells with a suitably naturally coloured chocolate green squiggle!"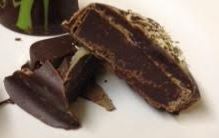 Spirit of Saigon – this is a 2 star gold Great Taste 2014 award winner made with Marou chocolate, coconut milk, kaffir lime and lemongrass. I think for me the lemongrass was more pronounced with a great punch but the kaffir lime certainly made its presence known as well. It is an amazingly citrusy punch in the face. I'm not a fan of the coconut on top but WOW is this a great citrus chocolate. If you are looking for a high quality coverture along with great citrus notes, this is absolutely a winner (an award-winner in fact and no surprise why!). Delicious!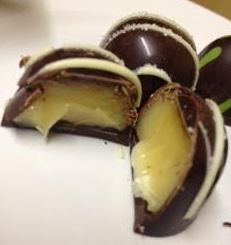 Kumquat Twist – a delightfully fruity chocolate that would be far too easy to sit down and eat a whole box of. With Cointreau and kumquat jelly plus that light white chocolate ganache, I can easily see this and a glass of brandy or this and a cup of coffee and you'd eat a while box without realising. These absolutely delightful chocolates were just too easy to pop in my mouth and eat and with the refreshing flavour of the ganache I found myself wishing for a few more as after dinner palate cleansers. What a perfect hostess gift! The light fruit of the ganache and the flavours will absolutely wash away a fatty dinner and leave you ready to enjoy yet another course. Secret weapon for Thanksgiving or Christmas perhaps?
Overall these three chocolates are absolutely star performers from Chococo. From the fresh boozy Totally Twisted nose through the wildly citrus Spirit of Saigon to the perfect after dinner Kumquat Twist, Chococo demonstrates once again why they are one of Britain's best chocolatiers.