November 25, 2014
Demarquete African Queen, Catongo & Grandiflorum Chocolates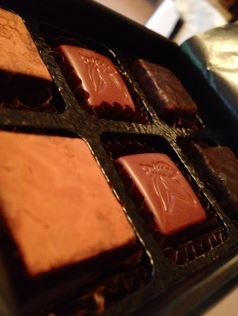 I'm a fan of Marc and his innovative use of chocolate. I love that he is working to expand what we know of as chocolate, choosing to make a ganache from the grandiflorum bean, a relative of theobroma cacao.
I received a gift of a trio of chocolates and because I had already reviewed the Grandiflorum chocolates, I thought I'd focus on the African Queen and the gorgeous Catango.
African Queen – this is a chocolate with a ganache filling made of a 68% chocolate, blended with fresh cream and Tanzanian honey. The base of the chocolate is a hazelnut praline mixed with crunchy Breton wafers. Absolute heaven. The honey lends a darker flavour profile to the chocolate and the crunchy base gives it a more interesting texture. The cacao is also quite special which you might not know about just from the flavour profile, especially if you compare it with the Catango and Grandiflorum chocolates.
The African Queen is made from cacao that undergoes a special process but – shockingly – comes from the IVORY COAST. I know I spend a *lot* of time telling people to stop buying chocolate originating in the Ivory Coast but this has to be an exception. Marc Demarquette says "The flavour profile of this cocoa has been enhanced during the fermentation stages by tapping into boosting factors which are present in natural fauna. This innovative approach reduces the bitterness and acidity often found in dark chocolate. In addition, an environmentally favourable by-product of this optimisation is the major reduction of cocoa bean waste. This is an important way forward in ensuring Ivorian farmers receive the optimal price for their entire harvest."
With African Queen winning not only three stars at the Great Taste Awards but also being a Top 50 winner, it is clear why these truffles are superior to anything else you could ever possibly find from the Ivory Coast.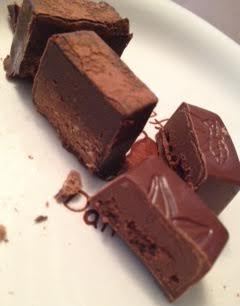 Catango – dear Catango, I love you but… I'm still more in love with Royal Merina so maybe we could just, you know, flirt and I could cheat on Royal Merina every so often with you? The floral I get instantly off it settles into ripe red fruits especially raspberry which is almost impossible  for me to taste and yet it is there front and centre for me. Absolutely gorgeous. You can still tell that there has been cream used in the ganache and so I wonder what it would be like as a water ganache – still gorgeous nonetheless. I'm really loving the clear notes of ripe red raspberries with the tang of acidity I'm getting from this ganache.
Marc probably says it best on his site and lets us know a lot more about the chocolate: "Catongo cocoa is a genetic variant of the Forastero bean and is found mainly in southern Bahia, Brazil. It is often identified as a Porcelana because of its whitish-coloured seeds.  However, when comparing the pods of the Catongo and those of other Forastero and Criollo types, the Catongo is virtually a mirror image of the Criollo-Porcelana. This is particularly due to two major factors: the number of divisions in the pod (five) and its downside shape. The pods are harvested and processed on site in Brazil by our partners, Amma, who ensure that all of the precious cocoa butter is retained, thus maintaining exactly balanced proportions as nature intended."
FASCINATING! This is an excellent example of why not all Forrestaro should be discarded as a bad or null flavour. The Forrestao is generally a hardy bean with no flavour but in this case it is clear that there is masses of flavour in this bean.
Overall I'd recommend all three for people who, like me, enjoy something a bit more. Buy African Queen for something with a bit more interest and punch with a great mouth feel as well as the taste. Buy Catongo truffles for someone who loves a bit of acidity and red fruit and wants something different – especially the chocolate connoisseur. Buy Grandifloium truffles for the chocolate aficionado who may have tried all the chocolates but may have never tried this relative of the cocoa tree.