February 27, 2012
Choccy Philly – Delicious or Disgusting?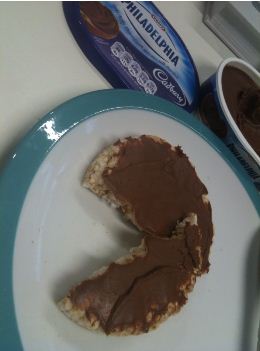 I was invited to the Chocolate Philadelphia launch to try the blend of Cadbury chocolate with Philadelphia cream cheese.  Yes… cheese and chocolate. Together. In one product.
Ahem…
So in the interest in testing and chocolate reviewing I tried it.  Yes… I also ate that stilton cheese on the chocolate at the Hotel Chocolat opening.
One might ask – who exactly tried this bizarre chocolate and cheese combination? Once the initial concept had been developed, the product underwent rigorous consumer testing by over 1,500 Brits who were particularly enthusiastic about the chocolate taste, light texture and lower calorie content.  Philadelphia with Cadbury, was seen by respondents as a perfect spread for bread, toast, bagels, biscuits, and even as a dip with fruit – said the bods at Cadbury.
Ah but many chocolate companies who mass manufacture chocolate remove the cocoa butter and add palm oil which contributes to deforestation, you cry! I actually asked the folk at Kraft and they said "Yes we use a small amount of palm oil in our chocolate.  We share concerns about deforestation, that's why we work with Roundtable for Sustainable Palm Oil (RSPO).  We believe in the need to develop & enforce standards for sustainable palm oil production and that's why we buy GreenPalm certificates to cover all the palm oil we use for Cadbury products"
So… does this mean they take a bar of Dairy Milk and add it to Philly? The product contains cocoa powder as well as Cadbury chocolate to deliver the delicious chocolatey taste. At their Philadelphia factory, they blend Light Philadelphia with the Cadbury milk chocolate and cocoa powder to produce Philadelphia with Cadbury. Philadelphia is made with Cadbury milk chocolate. They say "Cadbury Dairy Milk is too thick, and not the correct consistency for this product, so similarly to some of our other formats such as some other bars (Crunchie, Curly Wurly, Double decker, Turkish delight, Picnic etc), we use Cadbury milk chocolate."
Well, you might think, it looks like the company that was once a pioneer of British manufacturing has been reduced to being little more than a logo on someone else's pack of cheese – is that the case?
The bods at Kraft said "We are very proud of the Cadbury brand, and have shown through significant and ongoing investment that we work hard to maintain the iconic status of the nation's favourite chocolate brand."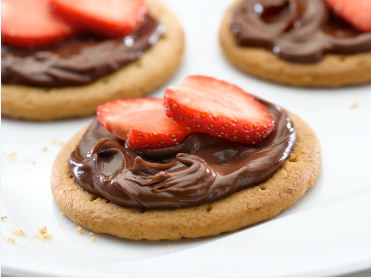 But what about this choccy Philly then, you ask – what is it like? Sour… like cream cheese and chocolate spread all in one. It isn't too sweet and it is very chocolaty but you never escape the fact that it is cream cheese with a chocolate flavour. I've got mixed feelings. At under 100 calories for 30g, adding it to a rice cracker isn't half bad for a snack but that sour taste I'm left with isn't my favourite feeling. The spread isn't terrible and has a nice enough flavour and I think on a digestive will be just like chocolate cheesecake so it's a nice indulgence but I think I'd rather have Pierre Marcolini chocolate spread or Askinosie spread but I'm a bit of a chocolate snob.