February 28, 2012
Oialla Wild Bolivian Bean Chocolate from Bojesen Review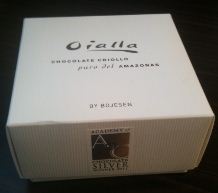 I fell in love with the packaging and the small squares just as soon as I saw them. I know from experience that chocolate lingers n my household and having small, individual squares to indulge in is perfect for my handbag and would have prevented many a destruction of aid handbags. The perfect packaging is not the only reason to fall in love with this chocolate though.
This chocolate is made by Rasmus Bojesen, an award-winning chef. He travelled to Bolivia and met Marcela Baldivieso and David Vacaflores at the Danish Embassy which is how this delicious chocolate started life. Unlike some few others betting their Alto Beni chocolate from the extremely high quality Felchlin range, Bojesen is making their chocolate direct from bean to bar.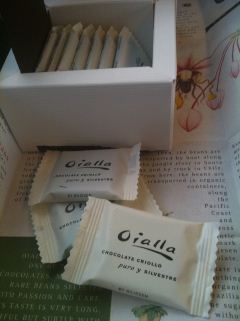 According to the beautiful pamphlet, the bans are criollo beans which have been growing wild and native to the region for quite some time. There is no selective culling and no grafting – these beans are harvested by the adults while their children receive an education and then floated down river to be scooped out and fermented for only three days before being dried on cowhide in the blazing sun. Such an auspicious beginning has created a delicious chocolate.
This chocolate is extremely special. Depending on what time of day you try it, you get a different set of subtle flavours. In the morning the distinct chocolate flavour is enhanced by a hint of fruit whereas in the early afternoon I seem to get unroasted hazelnuts. These, however are background subtleties which only serve to help create a deliciously complex chocolaty flavour. Where some beans with this distinct chocolate flavour fall flat and have a single note of flavour and nothing else, the Oialla has a delightful complex flavour the while still distinctly chocolaty, has other flavours rounding it out and giving us something slightly more.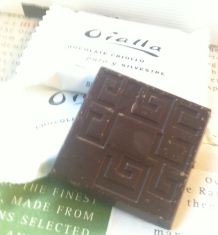 The mouth feel of this bar is slightly gritty with a particle size that to my sensitive mouth is slightly larger than something with a longer conch time however that does not detract from the pleasure you get when you allow a square – or half a square – to melt in your mouth. The finish is a lingering one, meaning you still get that chocolaty flavour coming through on you palette long after the chocolate has melted.
While on the more expensive side, this chocolate goes beyond Fairtrade to be extremely ethical and is well worth spending the money on for beauty, rarity and the chocolate itself.