March 5, 2012
Chocoroons from Lick the Spoon Reviewed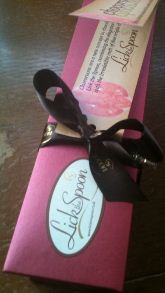 Macarons are all the rage it seems these days. Edd Kimber has a macaron class (and trust me, these little beauties are not easy to make), Michel Cluziel has chocolate macarons in his shops and now we're lucky enough to have our own version of chocolate macarons in for form of chocoroons from Lick the Spoon.
These chocaroons have already won an award and are likely set to win more awards given how yummy they tasted!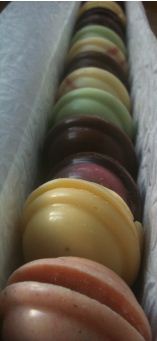 Passion fruit Caramel – these were deliciously sharply yummy with passion fruit clearly fruity in the caramel and the white chocolate sweet against the slightly sharp passion fruit. The caramel isn't too sweet though making it too moreish and… oh… I ate them all…
Morello Cherry & Kirsch – delicious sharp and tangy offset deliciously with dark chocolate. This was like eating boozy jam in chocolate. Deliciously yummy.
Strawberry & Elderflower– so real that there are bits of strawberry seeds in the ganache. Sweet and delightful but I didn't get as much of the elderflower. Sweet and lots of fun for dessert.
Hazelnut Praline – this is a very nutty praline with a texture that is quite pleasant.  Bit sweet but very edible and hey – most of the people who read this blog love sweet things!!
Pistachio & Pink Grapefruit – this caramel was amazing with the flavours coming through distinctly. There is a strange flavour I'm getting but mostly this is a really interesting flavour.
Raspberry & Peach Caramel – the peach here comes right through with the raspberry holding back a bit. There is alcohol in this but it is subtle so don't worry about your blood-alcohol limit 😉
Cinnamon Caramel – wow this is major cinnamon caramel! You'll absolutely need to like cinnamon (which I do) to like this.
Sea Salt Caramel – I ate pretty much all of these before even starting this review.  The dark chocolate & sea salt caramel was absolutely perfect for me. YUM! My advice – when you get a box of these, take all the sea salt caramel and passionfruit caramel out of the box 😉
These are lovely and make a brilliant gift for anyone – especially yourself but they are also perfect for Mother's Day.