March 5, 2012
Matcha Chocolat Mother's Day Collection Review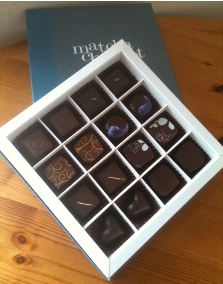 Mother's Day Chocolates – I have been fortunate and honoured to be able to follow Katie from Matcha Chocolat's progress from amazing tea chocolates to fabulous tea and other flavours. She now uses some of the highest quality chocolate available in sympathetic ways and balances the flavours of the chocolate with the flavours she adds.
By focusing on the combination of the flavours and chocolate she uses, she is now creating chocolates that rival the likes of Paul A Young and William Curley. I wish there was a place near my office where I could purchase some of her chocolates individually because that would be my daily treat. Her flavour combinations are just perfect and she keeps innovating. I'm lucky enough to know a bit about what is coming but I'm sworn to secrecy!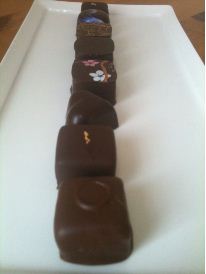 This Mother's Day collection once again stuns and amazes with the variety of flavours and the perfection of the balance.  It was absolutely magical and I think that no matter who you are getting these as a gift for – your mother, mother-in-law or yourself – they are going to be buying more and more. I've tried each one of these chocolates and they are all delicious!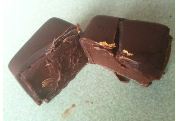 Los Ancones – Single origin (Santo Domingo), single plantation (Los Ancones plantation) 67% dark chocolate ganache.  This chocolate has delicious flavours of red fruits which despite having been made into a ganache are preserved. There is a slight hint of tannins but all in all an exquisite chocolate capturing the Michel Cluizel chocolate flavour.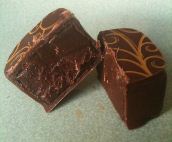 Passion fruit – A mix of Madagascan 64% dark chocolate and Venezuelan 49% milk chocolate blended with organic cream and passion fruit puree. This is an amazing chocolate. The passion fruit really hits in the middle to end and has a flavour that lingers beautifully.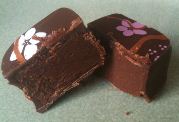 Award winner – Pink grapefruit – A mix of Madagascan 64% dark chocolate and Santo Domingo 67% dark chocolate, blended with organic cream and pink grapefruit juice. Delightful zest & juice top flavour that lasts all the way through as you eat the chocolate. It is unmistakably pink grapefruit and it clearly comes through without any jelly. Absolutely perfect!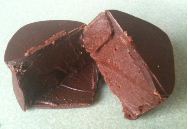 Earl grey – Madagascan 64% dark chocolate ganache with an infusion of Earl Grey tea. Dipped in dark chocolate and decorated with textured motif. This ganache has a delightful gentle high quality tea flavour. This chocolate is like a cup of Earl Grey tea from a high quality tea house, prepared to perfection and then added to a chocolate. For this chocolate alone you should buy the box!
Hazelnut & cinnamon – Venezuelan 64% dark chocolate blended with hazelnut paste, feullantine wafers, Vietnamese cinnamon and a touch of sea salt. The cinnamon flavour is a late bloomer in this chocolate so it doesn't smack you in the face but rather builds over time.  The sea salt is actually pronounced and the chocolate is lovely and crunchy.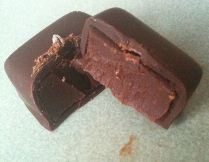 Lavender & Vanilla – A mix of Venezuelan 64% dark chocolate and Venezuelan 49% milk chocolate blended with organic cream infused with lavender and vanilla. This new flavour is a delightfully perfect blend of flavours. I'm shocked at just how perfectly these two flavours marry together. You'd never believe that the lavender and the vanilla combine to create a new flavour and it is perfect!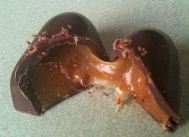 Tonka bean caramel – Venezuelan 64% dark chocolate heart filled with salted tonka bean caramel. The flavour of the caramel is very floral and has an intense long lasting flavour. I'm not the world's biggest fan of tonka but this was actually not bad at all and I think compliments the blend perfectly.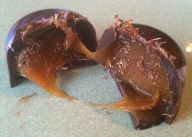 Award winner – Masala chai caramel – Blue swirled dome of Venezuelan dark chocolate housing a chai caramel centre that has been infused with a blend of Assam tea, cardamom, cinnamon, fresh ginger, mixed peppercorns, cloves, nutmeg and Himalayan pink salt. As you know I've reviewed this before and loved it and actually given away a whole box!
This is what everyone wants this mother's day. You need to buy it before Mother's day because like the incredible Valentine's Day selection, this is available for a limited time only.  Get it or you'll regret it!