February 23, 2012
Amedei Single Origin Chocolate Bars Review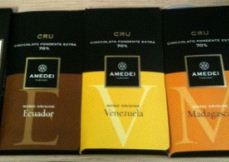 Amedei gets a lot of love from a lot of people online and yet I seem to have not had the best of luck with the batched I have managed to buy. So I bought these bars from a speciality shop and right away tried them to make sure I was as fair as possible. They were tried in the morning when my palette was fresh and unspoilt and I could smell with no head colds or anything and I think perhaps it might be the roast times I'm not as happy with but let's see…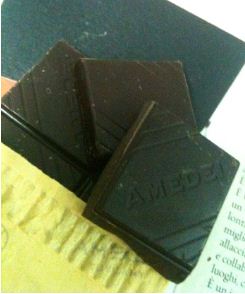 Amedei Madagascar – I tried this bar first and I got a drying – dusty note with it getting a bit acidic as it melts.   The chocolate was mild flavour slight toasted almond but barely there – no discernable fruit but rounded edges, fast melt, clean finish with a lingering delicate chocolate note.  Probably my favourite of this batch of chocolate I bought but not my favourite Madagascar.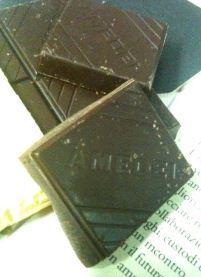 Amedei Venezuela – Nutty but not terribly unpleasant.  There is a flavour from the bean of unroasted cashews with a dusty dry note. I want to say old dried fruit where there it is mostly dry with little of its original flavour left but still that merest hint of fruit. The bar melts quickly, finishes cleanly, with a note of flat, uncomplicated chocolate at end. Not my favourite Venezuela.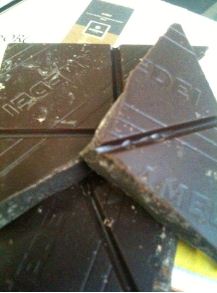 Amedei Ecuador – This chocolate is sweet, slightly nutty, not too complex with no overpowering notes. It is hard to pin down a flavour as it is just generally chocolaty. I'm looking for notes I'm used to finding but no luck. I'm not getting forest notes or exotic fruits as the package indicates 🙁 it is a very fast melt though.  Trying a bit more, there is fruit right at the beginning & as you eat more it develops past sweetness into more exotic fruit. There is a slight acidity & lingering flavour of the chocolate & hint of yellow fruit at the end. Not my favourite.
All in all Amedei Madagascar is my favourite of the group but they are pretty much all going in to my brownie box (the chocolate I use to make brownies) as it just isn't handbag material 😉