February 22, 2012
Bumbles Sweet Shop Chocolate Shoe Review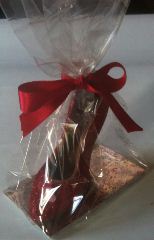 I was contacted by Bumbles around Valentine's Day stuff but this shoe came a bit too late and really, just look at it.  OK… it is in the plastic ere and so it might not be easy to see but this is a beautiful shoe and I think that even packaged as it is here, it is beautiful.
Bumbles is one of those sweet shops in Maidstone in Kent according to the business card that you occasionally stumble across when you wander around a town centre. It has all the traditional sweets and more, all inside a crowded shop that is filled seemingly ceiling to floor with sweets given the images posted to Facebook and their own website.  They seem to be corking hard to deliver good service and engagement so their Facebook page is really the place to go – especially as they warn of stuff selling fast there.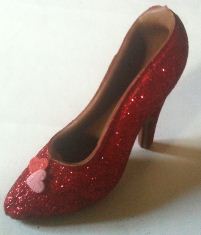 The shoe I was sent was the smaller version as the larger one would not have made it.  All I could think was that if the tiny version was this perfect and this cute, the larger versions must absolutely fly off the shelves! It would make a great gift that anyone would be loathe to eat . Since I was reviewing the show I felt I had to try a bit of the chocolate but it seemed like a bit of a crime to ruin that perfect ruby red slipper.
I did what I think most ladies would when faced with this kind of a shoe dilemma – I broke the heel off first! The chocolate is a sweet milk chocolate and the glitter doesn't have a taste but it was brilliant fun to eat!
All in all the Bumbles Sweet Shop shoe is absolutely the cutest little thing I have seen in awhile and just perfect to give as a gift. With the sweet milk chocolate pretty much most people will like to eat it – if they can bring themselves to do so!