February 21, 2012
Coppeneur Chuao Chocolate Bar Review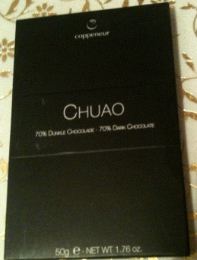 Soma Chocolat may be my first love for Chuao but Coppeneur is my first love for Ocumare. I had theirs before I tried Amano and as my review mentioned, I'm pretty sure I got a bar from a batch of 'overroasted' beans which gave the chocolate an actual burnt flavour. The Copeneur Ocumare was an absolute delight however so I have a fond spot for Copeneur in my heart and I know they can treat a bean more than sympathetically.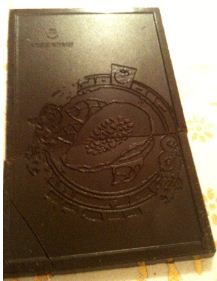 Not only do they treat beans sympathetically, they are also going to be planting and cultivating their own cocoa trees. The cocoa trees, I believe, take awhile to mature and so cacao pods are not immediately able to be harvested. In commercial terms it means quite an investment to reap uncertain rewards. Anything can happen to a natural crop, especially one that takes time to reap rewards.
The flavour… well in the morning to my palette there was a heavy nuttiness with an almost tannin drying sensation in the middle. It is smoothly sweet overall with that honey flavour surfacing but struggling against those unroasted almonds.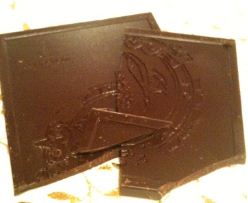 There is the hint of vanilla but not like the Domori. Whereas the Domori was a gentler nuttiness, these beans seem to have been roasted at a slightly higher temperature, giving that nuttiness much more of a platform and drowning that vanilla into a single, unsophisticated flavour note that doesn't enhance the chocolate. That creamy honey is still there but very muted.
I'm still in love with Soma's Chuao and I just don't see these as similar but more similar to generic Venezuelan chocolate.