February 20, 2012
Domori Hacienda San Jose Chuao Chocolate Bar Review
I'm the world's biggest fan of Soma Chocolate's Chuao. The robust fruit, sharp acidity and deliciously unique flavour is something I could wax lyrical on for hours.  Not so other Chuaos which have nutty, almost burnt flavours to me. They just aren't as pleasant and this is compounded by the fact I usually taste mid afternoon and not always in the morning.
It was with this in mind I decided to re-do my chocolate tasting in the morning.  After declaring Domori Chuao to be a "meh" on my scale of chuaos, I gave it another try in the morning.  I decided my dislike of most chuaos comes down to the flavour profile which included unroasted nuts.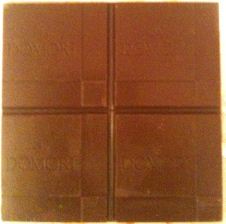 I do get nuts immediately – that dusty flavour of the nut unroasted. Unroasted nuts are not my favourite snack nor my favourite chocolate flavour. That continues as I do get honey but the vanilla they describe isn't quite vanilla to me but I understand why you'd name this flavour note as vanilla. Very smooth, fast, clean finish as you let it melt in your mouth.
I would quite happily eat the rest of this chuao but not necessarily buy it again. At 25g it is the smallest of the chuao bars I've tried and one of the most expensive. I'd rather pay to have Soma shipped to me I'm afraid. I guess I'm a Soma chuao girl through and through 😉