Tag Archives:
Fudge Kitchen
I do love a bit of fudge and I also love chocolate. Add salted caramel into the mix and in my opinion, you have a winner! These sticks of fudge are slightly more solid than Fudge Kitchen usually makes but ...
Comments Off

on Fudge Kitchen Dipped Sticks Salted Caramel Fudge and Chocolate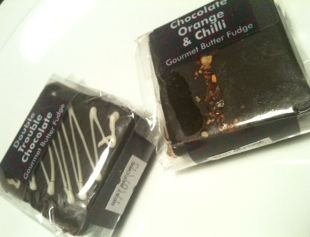 Fudge kitchen is changing and developing a whole new range of fudge. They already have a chain of fudge shops where you can get their amazing fresh fudge. Ooooo delicious and my goodness is it amazing stuff. But not all ...
Comments Off

on Fudge Kitchen New Fudge Flavours
It was possibly the fact that they were using it on oatmeal that intrigued me or possible just what they had called it "hot chocolate fudge".  Now, if you, like I , have eaten a lot of fudge in your ...
Comments Off

on Fudge Kitchen Chocolate Orange Hot Chocolate Drinking Fudge Review
Chocolate is lovely but every once in awhile a girl needs some variety in her life.  The lovely people at Fudge Kitchen gave me just that opportunity and I was lucky enough to receive 4 slabs of delicious fudge.  I, ...