March 1, 2011
Fudge Kitchen Selection of Fudges

Chocolate is lovely but every once in awhile a girl needs some variety in her life.  The lovely people at Fudge Kitchen gave me just that opportunity and I was lucky enough to receive 4 slabs of delicious fudge.  I, of course, chose the chocolate flavours and one different one to both try and share with husband.
Now, I am not a huge fan of the fudge you get in a box (like Baileys or clotted cream) which is hard, slightly crystallised fudge meant for a very long shelf life which is just like biting into a bit of crumbly sugar.  It is a very rare fudge I think pulls that off and as such I prefer the kind of fudge that is smooth and almost like a spreadable topping for toast.  This is the kind of fudge you can scoop up on a finger and slowly enjoy.  It is creamy and delicious and the kind you just keep coming back to for more… and make sure you have clean nails!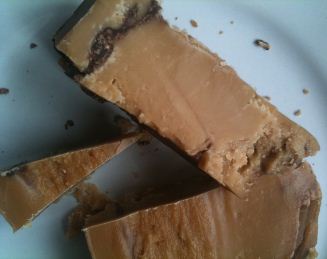 Mocca Choca Swirl – this is a lovely coffee fudge with a swirl of chocolate.  With fudge the key element is that it is sweet and boy is it ever but cutting through that sweetness is a milky coffee flavour which comes strongly through.  I have to admit I ate perhaps more of this one than I had to for tasting.  Poor hubby 😉  Apparently this fudge is made with fresh brewed coffee and then as it is setting chocolate is swirled through and this sets as a ribbon of chocolate quite different from the texture of the fudge.  The fudge itself is very soft, very smooth and very moreish.  It's not that it is light but the texture is smooth and it readily melts in the mouth.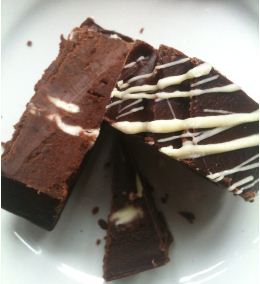 Double Trouble  Chocolate Fudge – this is a rich, thick chocolate fudge with white chocolate swirls and then topped off with drizzled white chocolate.  This dark chocolate fudge is really thick and is studded with white chocolate which, unlike in the coffee, is actually a bit smoother. Good chocolaty flavour and good preparation for US chocolate 😉 This is quite thick and does not readily melt in the mouth but it is quite fudgy as you would imagine it.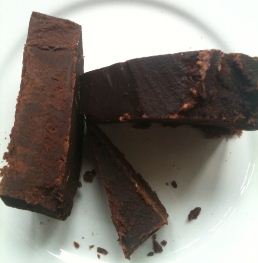 Chocolate Classic Fudge – apparently this fudge is made to a recipe originating from 1830 involving a copper kettle and marble slabs.  It is thick sweet chocolate but it is fudge so let's really rate it for what it is – delicious as a bit of a sweet treat.  I have to say that while I could eat more of the coffee, the chocolate is so thick and so rich I really couldn't eat more than a small piece.  This is god for my waistline I think 😉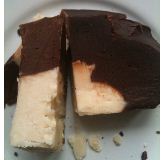 After Dinner Mint Fudge – I have to admit to being a bit fudged out by the time I get to this one but it is a really different fudge. The chocolate and white sections have a consistency between the coffee and chocolate thickness and so still quite thick and solid but with a delicious minty flavour which cuts through the sweetness and thick chocolatyness.  It's still a big lump of fatty sugary goodness 🙂
I like this fudge because it is smooth and creamy the way I like it.  I think if I was getting it for myself, I'd stick with the non chocolate ones so I could eat more 😀