August 7, 2013
Fudge Kitchen Dipped Sticks Salted Caramel Fudge and Chocolate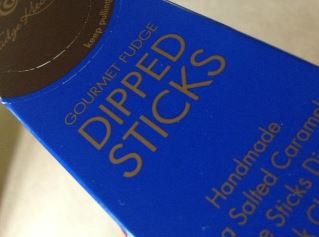 I do love a bit of fudge and I also love chocolate. Add salted caramel into the mix and in my opinion, you have a winner!
These sticks of fudge are slightly more solid than Fudge Kitchen usually makes but they are wrapped up tightly in wax paper and sold in boxes with a longer shelf life than their usual fudge which is made on the premesis regularly and very fresh.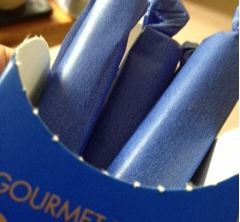 The consistency is closer to tablet fudge but it is still quite quick to melt in your mouth. The flavour of the fudge is mild enough that I'm having a slight problem telling the flavour so I'll just… have another… stick here… oh ya… that's salted caramel… I'll just finish this off now I've opened it… I'm not mad keen on the chocolate by itself but with the very sweet fudge the chcolate is just the perfct counterpoint – the right level of flavour and sweetness for the fudge.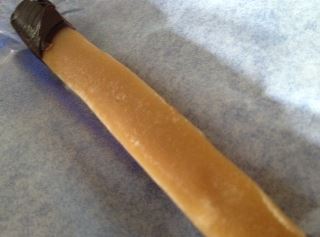 It's very moreish but what I love is that they are perfect as after dinner treats, gre at to have in a dish, serve with coffee, etc. They are just a brilliant little item that is perfect for so many things where you want something just a bit more than the cute little squares. Being wrapped means yu can either leave them in the box to be displayed or place them in a different container. They are extremely versitile.
Sweet, sugary, delicious and that part dip in chocolate ust gives them a bit of extra special something.