Tag Archives:
amedei
Regular readers (or whose who have used the archives) will know that I have had limited success with Amadei. You'll have read my scathing review of their Chuao and my mixed review of the meh milk chocolate and each time ...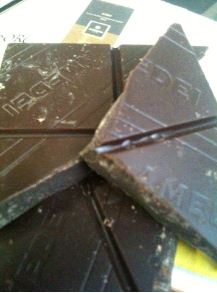 Amedei gets a lot of love from a lot of people online and yet I seem to have not had the best of luck with the batched I have managed to buy. So I bought these bars from a speciality ...
Comments Off

on Amedei Single Origin Chocolate Bars Review
After Soma, every chuao is going to be a disappointment. I know Amedei has won awards but I can't see the chuao is going to beat Soma. I still bought one and decided to try it because it ...
Comments Off

on Amedei Chuao Chocolate Bar Review
To be fair to Amedei, I have had this chocolate bar for a little while and while it was stored in controlled conditions, I think it has suffered slightly. This chocolate is flat and lifeless.  After so many quality chocolate bars ...
This creamy delicious almost molasses-y milk chocolate is almost too rich to take!  At £4 for 50g it is one of the most expensive bars I have ever bought so it is a good thing it is too rich to ...