June 4, 2010
Amedei Toscano Brown Cioccolato al Latte Milk Chocolate Bar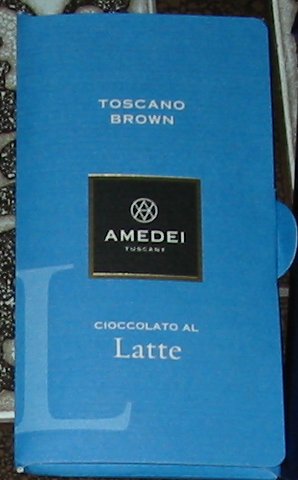 This creamy delicious almost molasses-y milk chocolate is almost too rich to take!  At £4 for 50g it is one of the most expensive bars I have ever bought so it is a good thing it is too rich to eat more than a single piece at a time.
If anything will teach you to slow down and enjoy a deliciously gorgeous piece of chocolate, this certainly will.  This creamy milk chocolate won't allow you to rush it – it will demand you to slow down and enjoy it slowly.
The flavour of the chocolate is subtle – so subtle that it is almost lost to the flavour of the dark sugar and creamy milk.  These flavours are so strong as to almost overtake all chocolate flavour.  When it hits the chocolate is delightful and light, with none of the bitterness some other chocolate can have.  These beans have not been over fermented at all.
This bar is a delight and while I might love Askinosie an awful lot, this bar is arguing with my taste buds for supremacy.