February 11, 2012
zChocolat Touche Valentines Chocolates Review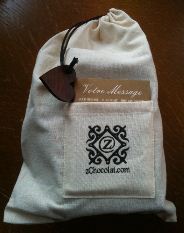 I know what you're thinking – you're thinking you have plenty of time and you can put it off a bit longer.  You're thinking that you have plenty of time.  YOU DON'T. I know you think you can pop out to somewhere and it'll be fine. IT WON'T.  Believe me and be ready RIGHT NOW and if you choose this selection, any lateness can be blamed on international couriers and not your forgetfulness but with next day delivery you'll be safe.
Valentine's Day is a special day. On this day as much as your anniversary, if not more so, it is the day to demonstrate your love and affection for your partner. Ignore everything else you do the rest of the year – Valentine's Day is all about bragging rights and you'll want your valentine to have these bragging rights!
This is possibly the most beautiful box of chocolates I have received.  Securely secreted away within a fabric bag with a wooden heart toggle is a box of delight but before you even get in to it, your message is in the perfectly created pocket with the glossy book of chocolates.  This message and book are within the expensively created bag that she (or he) will want to keep.  I am.
The next thing you notice after opening the bag is that this is a solid mahogany box, finished to perfection without a single splinter out of place.  The wood toggle comes from the cut out heart which is inset with a gold-coloured insert covered in gloss to make it look metallic.  This can be added to I found out by also adding an engraved brass plaque as well for a small additional charge.  The lock is in a beautiful high polish brass and flips open.  One option is for a lock on the bag itself which your valentine has to guess the combination to – very cool! Though I recommend against the lavender pillow – it could scent the chocolates. The USB is cooler or go for a cuddly toy!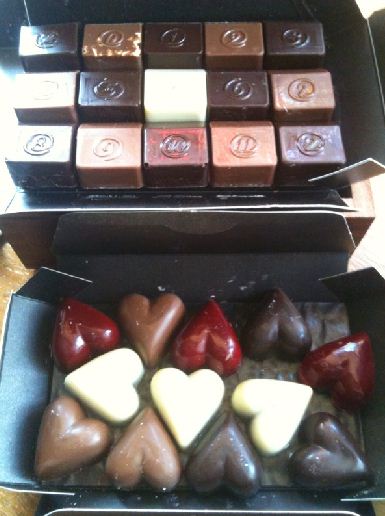 Inside the box are these two amazing layers of beautifully delicious chocolates.  These chocolates are both a layer of hearts and a ton of numbered chocolates which correspond to that glossy book in the front pocket of the bag.  There were a *lot* of chocolates so I thought that, since I was sick and couldn't taste anything I'd simply have to get you to imagine but I did get to go to the ZChocolat tasting event where I could sort-of taste some of the chocolates and I definitely loved the vanilla caramel heart and Z numbered chocolate.
The chocolates were nice – good quality – and are something that someone looking to send someone something so fancy they will be pass-out impressed, this is the box. They are expensive and anyone who receives them will know that without a doubt. So for chocolate that impresses and comes in a box that will be kept for years, this is the gift! Go to the ZChocolat site and buy your Valentine some posh chocolates now.