February 11, 2012
Win a Continental Chocolatiers Tasting Collection Heart [CLOSED]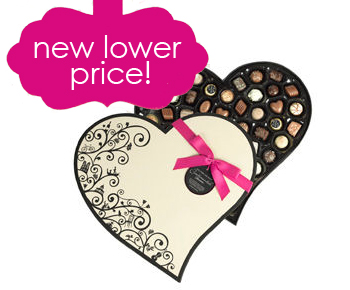 I got sent this heart of 625g of Thorntons Valentine's chocolates specifically to give away and so I shall.  But here was the problem – how do I give it away in a fair way without automated entries getting in the way of genuine people who genuinely read the blog and the Facebook page getting a fair chance so here is what I'll do:
Post a poem in the comments to enter. It has to be a unique poem and as such I will not approve any comments until the competition is over. I will accept any form of poetry but I will be judging on originality so I will be checking to see if it is original. It should be about love since these are Valentine's Day chocolates.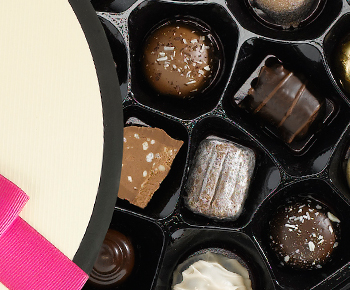 What about the chocolates? Well, the Thorntons site says: "Say 'I love you' with this beautiful chocolate gift. Hand-selected by our Master Chocolatier, this pretty chocolate gift box features only the finest luxury chocolates from our favourite Continental, Milan and Paris chocolate ranges. This stunning gift box is filled with 50 of the most popular Thorntons Continental chocolates, including scrumptious pralines, yummy chocolate truffles and delicious mousses covered in milk, white and dark chocolate." YUM.
But since it is Valentine's Day I will also give away some lovely Green & Blacks bars as a second prize!
To enter:
1)    Leave an original poem in the comments for me to judge
2)    Share this post on Facebook by clicking "share" on the wall post about this blog post on the MostlyAboutChocolate Facebook page (I'm not asking for "likes" as I understand that is frowned upon by Facebook – just share this specific blog post)
The rules:
1.Random.org will be used to determine if Facebook (1) or blog comments (2) will be chosen from to win the Thorntons chocolates. Once the Thorntons chocolates have been awarded, the Green & Blacks bars will be.
2.The competition will finish at noon GMT on Monday 13th February 2012.
3.The selection of winner will be based on originality of poem for blog comments, and by using random.org for Facebook shares.
4.Only available to UK mainland addresses.
5.No cash alternative available.
6.I reserve the right to exclude entries that I feel are inappropriate or not in the spirit of the competition. No pornographic poems please.
7.Your details won't be passed onto anyone else and will not be kept in any way.
8.I reserve the right to remove entries that I believe aren't human created or are an attempt to gain an unfair advantage such as automated entries.
Thanks to Loquax for the guidance on competitions!