November 18, 2014
#WIN One of THREE Pairs of Tickets to the @FoodiesFestival Christmas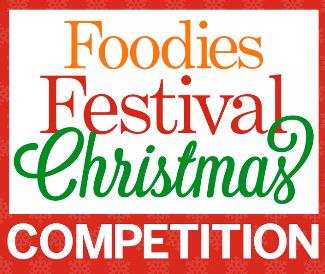 It's that time of the year when Tesco beats Harrods on the Christmas decoration for the home, Morrison's kills the competition with their festive feast and Fortnum's trumps the lot with the most perfect Christmas for young and old. That doesn't make it any easier to buy for my husband, nor he for me (I'm thinking of an ultimate buying guide or something as a way of leaving hints).
Well, if you've got a foodie in your life as well, I highly recommend heading down to the Truman Brewery for the Foodies Festival Christmas from Nov 28 – 30th. Not only will you be able to pick up some ace tips on preparing the perfect foodies heaven Christmas feast, but you can try all sorts of whisky's, beers and other spirits while shopping for that perfect foodie gift.
However the thing I may be looking forward to the most is the LIFE SIZED GINGERBREAD HOUSE! WOW! Every kids dream! I can imagine trying to eat that with my 6-year-old nephew – HEAVEN! And we'd likely only manage a door knob 😉
As with all the Foodies Festivals, there is a VIP option to get in to the masterclasses early, get a glass of bubbly and take away a goodie bag. Always a fun treat and for £48 you get somewhere to sit, refreshments and a much easier time of it – save me a seat at the tastings 😉 I think though the best value might be the 3-day pass which is £28. No champers, no seating area, but access to the show on all 3 days to access to those masterclasses.
You can BUY TICKETS HERE but you wanna win a pair of tickets? I have THREE PAIRS of tickets for whatever day you want to go! To enter follow the Rafflecopter instructions about leaving a special kind of comment. You'll get extra points for tweeting, facebooking and instagramming to check the widget and enter now!
Dems da rules:
1.The competition will finish at midnight GMT on Saturday the 22nd of November 2014.
2.The selection of winner will be selected by Rafflecopter and verified by hand to ensure entry complies.
3.Only available for the 2014 Foodies Christmas Festival at the Truman Brewery.
4.No cash alternative available.
5.I reserve the right to exclude entries that I feel are inappropriate (for example, change the tweet or do not leave the minimum 10 words) or are not in the spirit of the competition.
6.I reserve the right to remove entries that I believe aren't human created or are an attempt to gain an unfair advantage such as automated entries.
7. Your email address will be needed so that your tickets can be arranged for you as the Foodies Festival will be mailing them to you.