November 20, 2014
The 12 Valrhona Buche de Noel – Limited Editions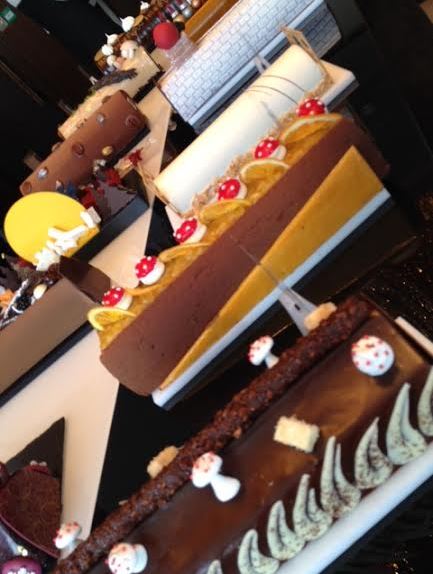 It was a hot day in July when 12 different pastry chefs unveiled their creations to an expectant crowd. We were taken around individually, being introduced to each chef and talked through each of the twelve Buche de Noel. These were not just any set of fancy Yule logs but a set of gorgeous limited edition Buche de Noel made by some of the UKs top pastry chefs from some of the top gotels.
Each Buche de Noel was unique and of course, each one used Valrhona chocolate. I had some stand-out favourites from the day, including a take on the Black Forest Gateau that was so good I begged a slice to take home. The most impressing and most Instagram'd was the individual portions created by one chef to showcase her Buche de Noel which was absolutely gorgeous. It was a touch sweet for me but most people will absolutely love that one
I highly recommend buying one and while some of them may all be presold, if any are still available it is worth getting one. I'm trying to buy one of the Black Forest ones from ME so that I have a special treat for Christmas day. It'll just be husband and myself as his father is too old to host us and all my relatives are in Canada :'-(
But I digress. Each of the buches I tried were absolutely lovely. I could not get enough of some of them. The chefs were amazing and the creations all absolutely unique. Most of the buches are limited edition though so once they go on sale I am sure they will disappear. I know a few hotels are actually exclusively offering them to their top clientele for purchase before the rest of us plebs 😉
The chefs involved in making these fabulous creations were: Luke Frost from Coworth Park, Denis Drame from Pennyhill Park, Joseph Wagenaar from The Andaz, John Grantham from Restaurant 61, Loic Carbonnet from The Four Seasons, Lewis Wilson from The Ritz, Cherish Finden from The Langham (MOST INSTAGRAM'D!), Eric Rousseau from Patisserie Belle Epoque, Sarah Barber from ME London (STAR of the show), Regis Negrier from The Delauney, Mourad Khiat from The Berkeley, Ryan Thompson from The Shangi La, and the absolutely lovely Andrew Blas from Café Royal.
Now I can't go all gushy on the cakes and not offer some way to access them for yourselves. I mean look at thr images of the cakes – how could you not want one of your own? Well, not everyone left contact details so I've gotten what I could but you may find that the buches are already sold out so RING FAST!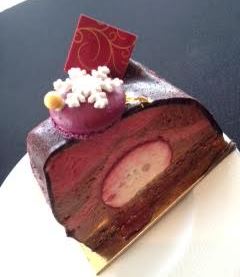 Sarah Barber – Head Pastry Chef Me London Hotel – I AM BUYING ***ALL DA CAKES*** so don't bother trying. They are mine and I may be the size of a blimp in the new year but I will be HAPPY! OK – not really but they were both visually stunning *and* delicious. The flavours of tart and sweet were gorgeous. The texture was perfect and the decoration – I'm swooning just thinking about it and so I guess I better say her Buche Noël – Blackforest Gateaux details are: Prices £38 for 4-6 people. Prices £48 for 8 – 10 people. Available to order online but there are ONLY 25. Buche's can be collected from 1st December to 20th December direct from the hotel. All packaged. All orders must have 72hrs prior notice of ordering being placed before collection from the hotel.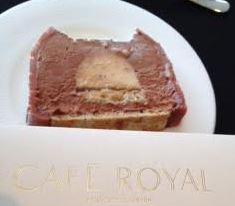 Andrew Blas – Café Royal, Regent Street – Andrew's absolutely adorable Santa in a chimney is filled with a chocolate mousse and then a lighter interior. Is that Santa's butt or his bag..? Anyway as you can see a fun and whimsical take on the theme of buche de noel. Pop in to Café Royal or phone in your order. If we flood his kitchen with requests he will be happy, right?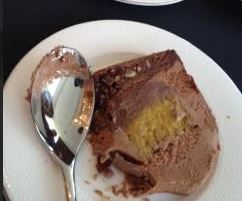 Loic Carbonnet – The Four Seasons, Park Lane –  I always love lemon but I find it can be masked easily by chocolate. The flaours can so easily get lost against the stronger base that sometimes too much can be used. An artificial enhancement or even it just gets lost. In this buche, the inclusion of so many lemon elements means that you get the lovely flavour of the lemon in one lovely layer along with the clocolate, balancing sharp tang with sweet mousse, Delightful but with no details I'm guessing you might have to call and meander your way through the call system to get to the right place to order one.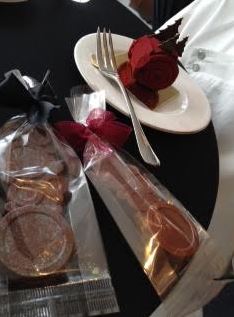 Cherish Finden – The Langham, Regent Street JUST BUY THIS NOW!!! It was a bit sweet for me as I said but it was executed with such masterful art I didn't care. The finish was perfect, the chocolate are was brilliant and the extra chocolate bar you get with it was just the most lovely added touch. It is so beautiful it is fdifficult to consider eating! They are unsurprisingly £88 each, to include the buche and handmade box but only 20 will be available for sale. I would be unsurprised to learn they were sold out already but call and check. Available 24th November-25 December. Orders to be made via Palm Court website email: book@palm-court.co.uk  or telephone 44 (0) 20 7636 1000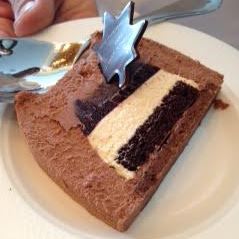 Luke Frost – Coworth Park, Berkshire – look at those layers and that chocolate leaf – YUMMY! And the complexity of the design of the top of the buche will make it the perfect finishing flourish to the most special dinner parties. It is also extremely reasonably priced at £48 for a 30cm 8-10 portion. Luckily the buche is available to pick up from the hotel or as a celebration cake taken in one of their outlets. The buche will also be served as a dessert throughout December as part of the Festive Menu in the restaurant. Available 1st December to 31st December. To Order phone 01344 756 784 allowing 72 hours notice.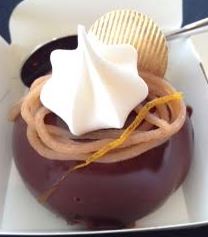 John Grantham – Restaurant 61, Mayfair.Price for 4-6 person buche is £36 limited to 20 buches. I am *not* a chestnut fan and this buche just blew me away. It is absolutely the perfect balance between flavours and texture to create an absolutely moreish dessert. You want more and yet you aren't craving swet. It is a masterful work of flavour and I was so lucky to taste it. Contact details for ordering are as follows: T. 020 7958 3222 E. reservations@sixtyonerestaurant.co.uk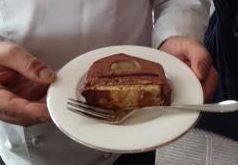 Mourad Khiat – The Berkeley, Knightsbridge – I think the peanut sponge was probably a little too much for me but the core of pear compote was a masterful stroke! The layer of blackcurrant was strong though so overall not as balanced a piece as I have had at the event but extremely good. I haven't been given contact details but if you're desperate for peanut and blackcurrant and pear you can contact the Berkeley direct.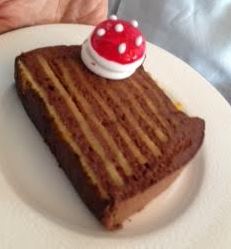 Regis Negrier – The Delaunay, Covent Garden – Called the Dobos Buche I think all of us GBBO fans know how difficult something like that is going to be 🙂 With interchanging layers of orange and mousse, the jelly and mousse combination makes this a melt-in-the-mouth delight. It was my second favourite buche from the whole event because of the balance between tart and swet. Absolutely delightful and well worth the cost. Absolutely value for money! 6 portions buche £21 10 portions at £35. Available from beginning of December. Order from the Counter at The Delaunay, 55 Aldwych, London WC2B 4BB – in the restaurant or by telephone – 020 7871 3990 or by email – thecounter@thedelaunay.com Order by 20th December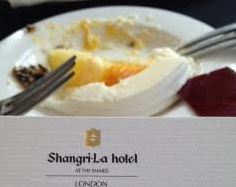 Nicholas Patterson – The Shangi La, The Shard. Just look at that perfectly designed exterior chocolate arc with the holes and decoration – my goodness I cannot even begin to consider the amount of mastery of chocolate tempering and art you need in order to get the outside looking so perfect. And it was so tasty I ate it before taking a picture! You'll have to take my word for how amazing it looked sliced perfectly. It looks so perfect and hard to cut without ruining it'd be difficult to eat on Christmas day – so have this one on Christmas eve instead!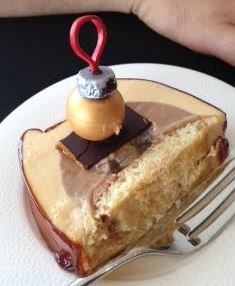 Eric Rousseau – Patisserie Belle Epoque, Islington created the most amazingly beautiful buche with baubles on top filled with pear that you were meant to eat first to cleanse the palate. Those baubles also make it easy to cut the perfect slice of the masterfully  flavoured sponge and amazing mousses. Well, he calls it Carrement PoireChoc and he says it is a base of moist madeleine sponge, soaked in William Pear Syrup. Pears in caramel and Valrhona Dulcey Cream surrounded by a light Valrhona Caramelia mousse. Topped with spheres of pear pearls. Wanna buy it? I certainly do! £32 for a 6-8 portion/ £50 for 8-10 portion. Available to order in store or telephone 020 7249 2222. Collection only on 23-24 December because otherwise the soaked base and all the bits will go off.
Joseph Wagenaar – The Andaz – Bahibe Banofee – Valrhona's Bahibe Milk Chocolate (46%) Mousse, Banana Curd, Smoked Pecan Praline and Crunchy Dark Chocolate Ganache – YUMMY! 25cm Serves 4-6, £27 – Available for pre-order from October 1 to December 10 and they are for pick up between 1 Dec – 22 Dec Must have minimum 48hrs Notice – Order by Calling Andaz Restaurant Reservations T +44 207 618 7072 – Only 30 Available
Lewis Wilson – The Ritz, Piccadilly – Coconut lovers REJOICE! This is the most amazing coconut mousse ever. Gone is the terrible dessicated coconut bits that get stuck in your teeth. This is a sublime coconue daquoise and coconut mousse and so much amazingly delicious Valrhona white chocolate I know some of you will be in heaven with this one. I don;t like coconut but I recognize mind-blowing awesomeness when I taste it and this is it and it comes in TWO SIZES! 25cm @ £60 and the 35cm at £90 – Orders must be received by 30th November.  Orders are on a first come first served basis and need to be placed with Kpeckham-cooper@theritzlondon.com.