November 12, 2014
Free Chocolate Festival in Shrewsbury & I'm Speaking on The History of Chocolate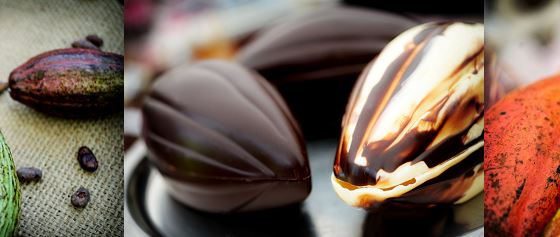 The first Shrewsbury Chocolate Festival is taking place this weekend from Friday 14th November until Sunday 16th November and I'm going to be there speaking about the history of chocolate from its prehistoric origins in Mesoamerica through to it's discovery by the Spanish court and on part the invention of chocolate as we know it today to finish with a tasting of chocolate made at origin – a rare thing.
The Festival will be held in the heart of Shrewsbury in St Mary's Church, and children's workshops will run daily to make sure the wee ones don't get bored 😉 A demo stage with demos from chocolatiers, industry experts and local chefs will be at the centre of the Festival. My friend and fellow chocolate blogger Lee McCoy of Chocolate Reviews will be giving a talk on what to look for when buying chocolate – something I spoke about at The Chocolate Show in London. I (Judith Lewis) representing my very own chocolate blog which you are reading here (Mostly About Chocolate for those reading this on a scraped site) will be giving an insight into the History of Chocolate as I mentioned as well as doing a chocolate tasting (FREE!) James Sherwin who was a contestant on Channel 4's the Taste and who is now a chef at Henry Tudor House and Michel Nijsten who is the executive Chef at the Albright Hussey will be wowing the crowds on Sunday with savoury dishes and desserts. Did I mention this festival is FREE?
The British Academy of Chocolate which sadly I am not yet a member of will also be represented at the Festival. The Academy which pioneered chocolate awards in the UK will be promoting the use of ethically sourced, good quality chocolate. This is a very important topic in my opinion and one everyone should learn about. Too often chocolate is sourced from the Ivory Coast which is known for its farmers kidnapping children and forcing them into slavery ON COCOA FARMS. Yes, your "Fairtrade" chocolate might be the result of child slave labour. I always choose Rainforest Alliance as they work with farmers to improve farming and practices directly in country whether it is tea, chocolate or coffee.
Enough of my soapbox! What is it all about? "The festival will have something for everyone; we've tried to make sure there's a real mix of exhibitors; from truffles to chocolate bars, fudge, cakes, biscuits even chocolate beer and chocolate mulled wine will be on offer" said the lovely and amazing chocolatier Julia Wenlock Julia has really worked hard to bring a chocolate festival to Shrewsbury and I hope plenty of people will make a day of it as it is FREE and in a lovely church. By the way – buy Julia's salted caramels before I do because I might be buying ALL her stock I love them so much. Her chocolate is so inexpensive for the quality that everyone should be buying it. I have no clue how she does it so cheaply.
IMPORTANT DETAILS! Shrewsbury Chocolate Festival will run over three days, Friday to Sunday 10am till 5pm (Sunday only until 4pm) in St Mary's Chruch. The St Mary's Charity Christmas Card shop will also be open over the three days of the festival, as well as Battlefield 1403 Cafe. It's FREE so come on by and visit the show and taste some chocolate with me and others and go shopping!