September 6, 2013
London Goodies From House of Dorchester Chocolates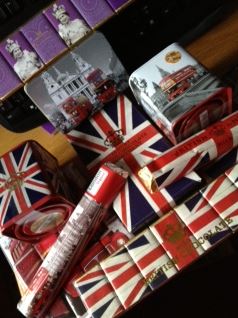 It's Lahdahn innit? From the Queen to the Routemaster bus (the original, not the new-fangled one), London is iconic. To celebrate al things London and British, the lovely folk at House of Dorchester who have been making chocolate goodies for 50 years have released some lovely London celebratory chocolates, toffees and fudge.
The House of Dorchester is probably supplying chocolate to most of the landmark buildings around the UK. Those bars you see with the name of the monument on them in large, almost triangles are from House of Dorchester. Even husband, a fussy chocolate eater, loves their chocolate orange cars and nommed one at Spring fair where the lovely folk gifted us a few bars.
The milk chocolate is, I'd gamble, a best-seller as it is quite addictive. The iconic scenes on the wrapper soon forgotten despite the hours of work that went in to them because the chocolate treat inside is what the real gift is.
In celebration of the Jubilee, House of Dorchester have released these awesome London chocolaty/toffee-y/fudgy gifts and while you *could* go and buy them at your favourite attraction and bring them home to the US or Canada or Australia as gifts, you could also WIN THEM WITH US!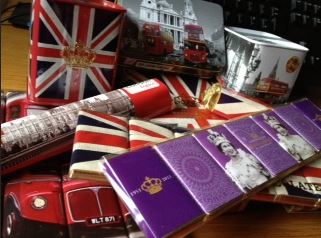 That  right – those amazing folks at House of Dorchester sent me these amazing London gifts and I'm giving them all away? There is so much chocolate you could have  a party (remember to invite me 😉 )or give some as gifts or whatever. There are two money box  tins which have either fudge or toffee, a little pretend suitcase with toffee (I think) and an iconic London scene, There is the Routemaster puzzle in chocolate squares that'll keep the kids busy for ages, a British flag of the same ilk, there is a line of purple chocs (for royalty) and a younger queen to celebrate her Diamond Jubilee, two of those iconic bars, a box of filled chocolates covered in an image of the flag, a large box of chocs that make a flag (another puzzle for the kids) and a line of British flag squares of chocolate.
That, my dear readers, is a LOT of chocolate and it is all lovely iconic London  or British themed. Why not have an 'I'm (not) a Londoner" party (depending on where you live). I have all of this myself and I have to post it myself and I know the weather is going to be an issue so I'm afraid this is for the UK only folks.
To enter, because there is SO MUCH CHOCOLATE from those lovely House of Dorchester folk, I'm using Rafflecoptor and enabling entry through Facebook, blog comments and tweets.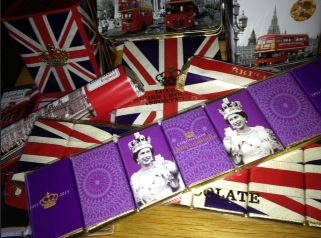 To enter through the blog (required), leave a comment of *MORE THAN TEN WORDS IN LENGTH* talking about your favourite London place. For example, my favourite place is the British Museum. It is free to get in and the knowledge you gain by walking its halls and reading about the history and pre-history of the whole planet is priceless and enchanting.
If you like us and House of Dorchester (I'll check anyone who wins this way to ensure they follow *both*), you'll get an entry, if you follow us and House of Dorchester @hodchocolates (again, I will check *both*) you'll get an entry, and if you tweet the following you'll get an entry: London is way more chocolaty thanks to @hodchocolates & @mostlyaboutchoc and I'm thankful! See more here: http://bit.ly/15DZPAK
You'll be able to enter until Wednesday at whatever point Rafflecoptor pulls the plug (I hope sometime around midnight but in what time zone I have no idea).  I'll get husband to post it to you after that and hopefully as it is a lot of hard metal it'll arrive unscathed 🙂
Please remember that these amazing chocolates are thanks to the wonderful folk at House of Dorchester who are celebrating 50 wonderful years. Remember to thank them too if you win!
a Rafflecopter giveaway

The rules:
1.The competition will finish at noon GMT on Wednesday 11th September 2013.
2.The selection of winner will be selected by Rafflecopter and verified by hand to ensure entry complies.
3.Only available to UK mainland addresses.
4.No cash alternative available.
5.I reserve the right to exclude entries that I feel are inappropriate (for example, change the tweet or do not leave the minimum 10 words) or are not in the spirit of the competition.
6.Your details won't be passed onto anyone else and will not be kept in any way.
7.I reserve the right to remove entries that I believe aren't human created or are an attempt to gain an unfair advantage such as automated entries.