December 24, 2010
Win a Box of Thorntons Continental Chocolates for Christmas [CLOSED]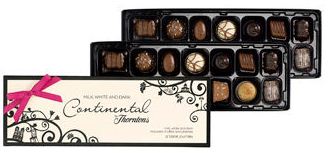 Well, it's a bit late to get these in time for Christmas but in honour of Christmas and to celebrate the upcoming ONE HUNDREDTH YEAR ANNIVERSARY of Thorntons, I'm giving away this lush, lovely box of 350g of dark, milk and white chocolates! This box of Thorntons Continentals is full of lovely chocolate promise.
According to their site, it is worth it!  This box has two layers of luxury chocolates that'll put a smile on the face of any chocoholic (or really anyone for that matter).  Full of dark, white and milk chocolate truffles, pralines and mousses and with Swiss, Belgian, Spanish, Italian and French influences, this perfect chocolate gift has something for everyone inside.
There are some exciting things coming up from Thorntons for 2011 and so let's start the centenary off right with some Thorntons chocolates 🙂
TO WIN these chocolates, leave a comment below about your fondest Christmas memory, and/or leave a comment on Facebook letting us know about the best Christmas gift you got and/or follow and tweet "I'd like to win this box of Continentals http://bit.ly/feyVqj  from @mostlyaboutchoc" and I'll draw someone out of the hat on Boxing Day!
WAHEY! ***WINNER*** Jo – jochrisbryan has WON!