February 13, 2013
Valentine's Selection from Paul A Young Reviewed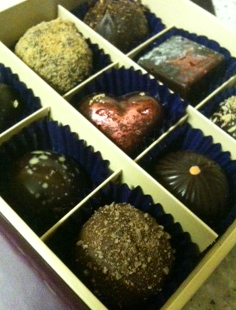 I was so incredibly lucky to get given a box containing one of each of the new flavours for Valentine's Day from Paul A Young. This is an amazing collection and there are a few I really hope will stick around. Paul is constantly experimenting with flavours and creating new ones so chocolates in his shop are always fresh. He usually releases them slowly in the run up to the holiday to make sure they are always fresh but I got them all in one box – WOW! This was a first and I was really looking forward to try this whole range.
Valentine's at Paul a Young Fine Chocolates this year is all about selecting the right chocolates for the right person. Is your man more of a hipster or a gentleman? Paul has created two perfect chocolates 'The Hipster' – Cocoa nib Bourbon tobacco sour and 'The London Gent'– black pepper and treacle caramel ganache truffle. Is your aim for Valentine's Day to seduce? Try 'The Love potion' – jasmine flower, ylang-ylang, geranium, vanilla and lavender or for the more traditional romantics Rodda's Cornish Clotted Cream, real champagne, rose and raspberry heart. Is your loved one more adventurous, how about the Ginger Pig black pudding truffle with ginger biscuit and beer?
Using an exciting range of top quality ingredients, Paul has produced flavour combinations that create an extremely romantic Valentine's Day with a personally selected range of chocolates. There really is something to suit every taste with sparkle and glamour influencing the style of each hand decorated chocolate in the collection.
I love the emphasis on keeping it local in these chocolates. Cornish clotted cream, Thames honey, and more all reflecting a passion for supporting other small artisan tradespeople. Reviewing all 9 was a slight challenge as the flavours are all so different. They range from subtle to strong, weird to traditional. I figured I'd just go in a random order and so here we go: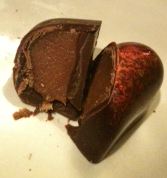 Rodda's Cornish Clotted Cream, raspberry, champagne and rose – each flavour comes through in layers. You get fresh raspberry, touch of champagne and a hit of rose and that amazing chocolate all supported by that amazing local clotted cream. Just buy me a box of these mixed with the traditional sea salt caramels and I'm yours. Well, for as long as my attention lasts 😉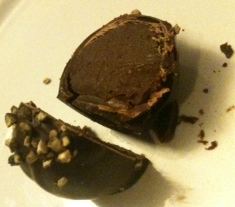 The London Gent treacle, black pepper – holy **** I did swear just then – what an amazing chocolate. Just wow amazing flavour punch in the face with a yummy chocolate flavour base. I think maybe a little less pepper for me but you know what? It's still brilliant because you can take some of the pepper off the top and just balance it the way you like it. That was stunning!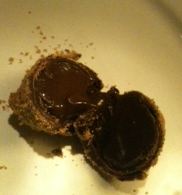 Ginger Pig black pudding, beer and ginger biscuit – I feared this chocolate so I thought – just do it! Smooth liquid, slight hops from the beer but the cookie is quite powerful I guess because I didn't feel like I was eating meat. Or blood. Thank goodness. A very nice truffle but in the box not my favourite however it might be yours…
Love Potion Florals – wow! A nose full of floral, almost pollen flavour! Amazing! It's not a perfume flavour so you don't feel like you're eating a synthetic flavour but still intensely floral so there is just no escaping it. A natural floral which quickly fades but still stands out against the delightful chocolate. Wild and really different! WOW!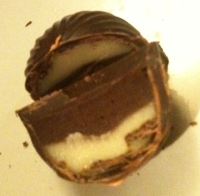 Rare Tea Company bergamot tea, orange and lemon curd – wow again! So this is all over the place for me – there a slightly odd flavour from the chocolate (might be raw Pacari), the lemon is sharp and slightly acidic and the flavour is like an experimental jazz session exploding all over the place and feeling disjointed and yet – strangely it works. Not my favourite but wow is this ever wildly impressive! The flavour lingers well and wow it is just amazing.
Tapped and Packed espresso bean martini – I was looking forward to this one 🙂 The coffee builds in this one after a punch of alcohol. Oh… I could live on this chocolate. The balance of dark but not burnt coffee with amazing chocolate and tingly alcohol is delicious. It's a bit liquid but there's nothing wrong with that. The flavour lingers long after the chocolate is gone.
Chipotle chilli and Thames honey – I love the local nature of this chocolate but the heat it left on my lips and in my mouth was a bit too much for poor little old me 😀 It is smokier than the brownie and the honey really compliments the smokiness and so I can see a lot of people enjoying this smoky without being sweet. Perfect balance.
The Hipster bourbon, cigar tobacco, cocoa nibs – woah – nose of kinda smoky with sweet chocolate but I'm not quite getting the bourbon but I have eaten a lot of chocolate at this point and my brain may be melting 🙂 It is nice, mellow, not too overwhelming and just smooth. Maybe that's the influence of the bourbon. Not my favourite but not bad.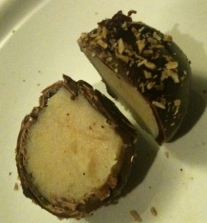 Indian rose petal masala – I'm not sure about this one. The masala is perfect but quite intense which has drowned the rose a bit. This is the last one I'm trying so it could be a bit of that but this one will appeal to those of you who prefer more pronounced flavours. Where the Ginger Pig black pudding was a more mild flavour, this was absolutely aggressive.
Quite a Valentine's selection with something for everyone I think. I have my favourites in the Rodda's, Tapped and Packed and even The London Gent but there is such a diverse range of flavours in here that if you like booze you have a few, if you like meat you have something, if you like strong flavours you have a few and if you like gentle flavours there is something for you too. So depending on what your personal taste and preferences are, there is something for you.