August 14, 2010
Ubuntu Chocolates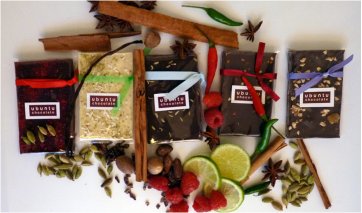 I have to admit that being the geek that I am I initially thought the people behind the OS decided to take the next logical step after building an operating system based on UNIX and gone into chocolate. Wandering over to their stall I thought I'd take a look at their chocolate offering.
I love chocolate as everyone reading this probably knows.  I do tend to ask hard questions about chocolate it seems and in this case it was 'what kind of base chocolate do you use'. I know – completely unfair but the right person happened to be present and we had a great conversation about their chocolate.
Ubuntu chocolate were set up to help disadvantaged youth and past fishermen in Sri Lanka.  The chocolate is Venezuelan and, regrettably, is bought mixed through a broker.  Their goal is to make a great flavoured bar and help the less advantaged and not make a great milk chocolate bar with nothing in it.  Their bars are all dark to begin with 🙂
They have been going now for over 3 years and while we chatted they let me try some of their chocolate bars.
The Fennel bar had no flavour I could discern.  Obviously you have to be careful with a flavour like fennel and so they had erred on the side of caution and so it doesn't take of anything as a result.
The Lime Chilli bar, their best seller, had a strong citrus flavour but the chilli flavour tasted powdery.  Well, at least what I could taste of it tasted powdery because the lime – or rather sharp citrus flavour – was quite overpowering.  Mind it didn't make it completely unpleasant but it did suddenly make me crave pie…
Orange Spice, a Christmas favourite, has a strong citrus scent and flavour. It isn't unpleasant and the spice was not too overpowering but it was also distinctively Christmas and nothing else.  Seasonal chocolate to the extreme.
All in all not bad and for a noble cause.