August 16, 2010
Manjari 64% Pur Madagascar from Valrhona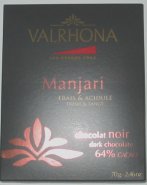 For some reason the Valrhona chocolate I have been exposed to has all been of questionable quality but this bar… dear goodness gracious me it is heaven.
At 64% this is not a light bar but it isn't a heavily dark bar.  I've been using this bar to introduce my colleagues to nice chocolate because the fruitiness of it hits you full in the mouth and sends your taste buds on a fresh and tangy journey into heaven.
No one can help but to take the quality and different-ness of this bar.  It is so clearly something special it's like going from drinking cheap wine to something well made. The difference isn't something only a wine (or chocolate) critic can taste – it's clear to everyone who tries it that it is something special.
Apparently twenty years ago, Valrhona introduced Manjari 64% Pur Madagascar.  The website says that it was the first in the line of Grand Cru chocolates which they claim began the trend of varying percentage of cacao contents and the concept of terroir for chocolate. I'm not so sure if this is true but this bar is a thing of beauty.
This is a delicious bar. At 64% it isn't too dark so milk lovers will be able to take it. The bar is thin so you don't get too much of a hit all at once and the chocolate is distinctive and delicious.  Absolutely top marks from me!