March 17, 2015
Thorntons will deliver your perfect Easter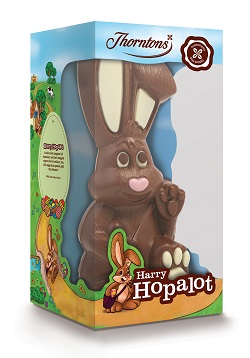 This Easter, Thorntons will deliver all of your chocolate needs with the help of its resident Easter bunny, Harry Hopalot. Whether you prefer a traditional chocolate egg or a cute bunny model, Britain's favourite chocolate-maker is sure to have everything you need for a cracking Easter celebration.
After his introduction last year, Harry Hopalot is bouncing back onto the scene this Spring with an array of milk and white chocolate models; from the mini 60g Harry Hopalot (RSP £3.50) up to the impressive 250g model (RSP £7) or even the Giant Harry Hopalot, a whopping 1kg of milk chocolate (RSP £50).

New this year is the indulgent range of Dessert Eggs in exciting flavours inspired by Thorntons best-selling range of Choc Blocks. Treat your loved ones to a Caramel Cheesecake Egg (RSP £15) – a chunky milk chocolate egg full of delicious caramel flavour, fudge pieces and biscuit crunch, or try the Eton Mess Egg (RSP £15) – made of real raspberries and meringue pieces encased in a decadent white chocolate shell.
Easter is all about bringing the family together and you'll find plenty in Thorntons' stores to keep the kids smiling – whatever they love. The Footy Fanatic Egg (RSP £4) decorated with white and dark chocolate, is ideal for sports fans. Or the Cupcake Egg (RSP £4) is the perfect treat for those that are crazy about cakes! What's more, all Thorntons eggs can be personalised in store.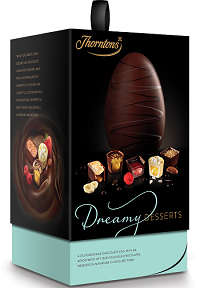 If you are looking to impress this year, look no further than the new Dreamy Desserts Egg (RSP £25) which combines two of life's great loves, dessert and chocolate. This beautifully decorated milk chocolate egg comes complete with 16 miniature dessert inspired chocolates in flavours such as Passion Fruit Mousse and Pecan Tart – simply delicious.
Also back by popular demand this year is the Marvelously Magnificent Egg (RSP £20) – a whole kilo of creamy milk chocolate, guaranteed to keep even the most committed of chocolate lovers busy this Easter.
As well as large eggs there's also plenty of mini treats costing less than a pound such as the bunny shaped milk chocolate Harry Hopalot Lolly (RSP 99p) or the Continental Alpini Treat Egg (RSP 95p), meaning Thorntons has all your Easter chocolate needs covered.
Thorntons Easter range is available in stores across the UK from January 2015 – for more information visit www.thorntons.co.uk