March 10, 2015
Mothering Sunday St Partick's Day Irish Market in London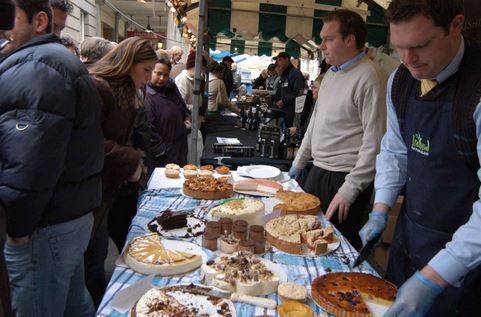 I love the Bord Bia folk because they represent some amazing Irish brands. One day I'd actually like to visit Ireland when I don't have to rush around speaking or teaching 😉
Following last year's triumphant success, Bord Bia, the Irish Food Board will once again host its Irish Food Market in London's Trafalgar Square on Sunday 15th March, from 12pm-6pm.
Celebrate St Patrick's Day and Mothering Sunday in style by tasting some of Ireland's most popular, award-winning food brands, all for FREE.
This event attracted a crowd of 75,000 last year and offers foodies all over London and the South East the opportunity to sample a variety of delicious sweet and savoury Irish produce, from smoked salmon and hand-cooked crisps to 'free-from' baked treats and gourmet jelly beans.
The food market is the perfect opportunity to indulge in an array of lovely nibbles selected to suit all palates and requirements. Those include:
Biscuits from Broderick's, a Dublin-based handmade bakery
Mouthwatering Irish Organic Smoked Salmon from Burren Smokehouse
Delicious dairy yogurts and drinks from 2014 Best Taste Award winner Nomadic Dairy
Gourmet jelly beans from The Jelly Bean Factory
Artisan potato chips, offered by Ireland's only "hand-cooked on the farm" producers, Keogh's Crisps
A gluten-free range of biscuits, cakes and cereals by The Foods of Athenry, a multi-award winning 'free-from' bakery based on a family farm in West Ireland
A range of traditional products from Your Irish Shop
The Bord Bia Irish Food Market also gives producers the chance to interact with their customers and obtain valuable feedback.
Join them on 15th March to sample high-quality, original produce from the heart of Ireland and receive a warm welcome from the producers themselves.