March 5, 2013
Thorntons 1kg Marvelously Magnificent Chocolate Easter Egg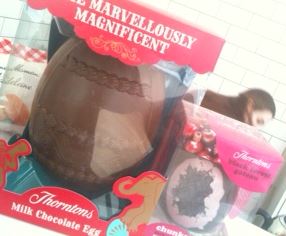 At Easter, size isn't everything but it certainly makes an impact. This 1 kilogram Easter egg from Thorntons caused no end of comments from almost everyone I passed on the street when  took it from where I had collected it from to my office. Once I arrived at the office I almost caused a riot! Lucky thing it a gift so I was happy to share 🙂
The office erupted in a cacopony of whoops and hollars and admiring noises – so much so that someone on the other side of the office had to hush everyone. This 1kg chocolate egg is certainly a brilliant way to make an impact! The size is just massive as you can see. There is a front panel of decoration and the reassuring Thorntons logo on the back.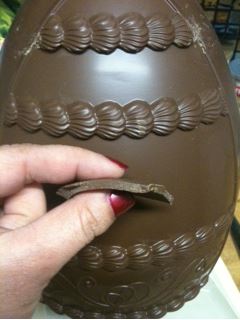 The chocolate egg itself is milk chocolate. This is the normal creamy, milk chocolate that is quite sweet. A lot of people compared it favourably to Cadbury's milk chocolate as they went back for seconds and thirds. The milk chocolate in my rather warm office was not too soft – enough to break but it didn't melt immediately when touched.
This is an impact egg. I damaged mine getting it back to the office but if you aren't juggling  the world's heavest handbag along with 4 other eggs through Soho you'll likely get the egg back undamaged. The constant comments in somewhere like Soho as well will be absent from your adventure which will be no bad thing.