March 18, 2015
Hans Sloane Easter Egg Hot Chocolate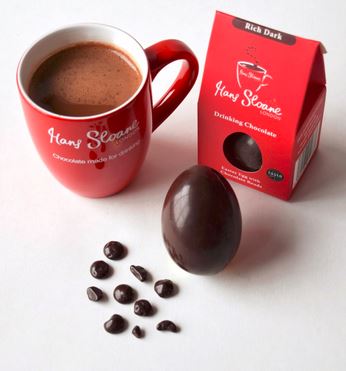 After making and photoing some Hans Sloane hot chocolate in one of my fav mugs at home, my phone was stolen and all the photos lost. They have some cute shapes and for the holidays even had a bauble but my favourite was their cocoa pod shaped one.
For Valentine's they sent me a heart shaped chocolate shell filled with grains to make hot chocolate with my initial on it piped in chocolate. Not sure if that was commercially available but I loved it. It came with my very own Hans Sloane mug so any time I want hot chocolate I'll always remember that lovely rich chocolate flavour and bemoan I don't have more.
For Easter they have created something cute and quirky and fun and edible straight out of the box if you want – Easter Egg hot chocolate! I don't know about you but no matter when Easter falls it always seems cold. I'm also always at a convention and this year, due to not moving fast enough, I'm on the committee but that aside it's also cold.
It might be cold but hot chocolate when you're doing everything else chocolate is often a let-down with nothing cute and special just the same old – until now. 🙂
My grandmother when she was alive used to decorate for the season. The living room was Christmas or Easter or Canada Day or whatever. It was a special kind of pleasure to walk through the front door and be presented with, for Easter, a multi-coloured wonderland of hidden chocolate eggs, colourful décor and snacks I'd never usually be allowed 😉 This would just me the icing n the cake – Easter eggs you could eat or make into hot chocolate!
The standard Hans Sloane hot chocolate has been popped into a chocolate shell making a kind of shaker egg which can be melted into milk or eaten. Delicious hot chocolate or delicious treat!
Have some fun this Easter with your breakfast beverage and treat yourself to an Easter egg hot chocolate before the kids come back from the hunt. You might want to consider adding a splash of something boozy too 😉