November 1, 2010
Thorntons Milk Chocolate with Banana Chocolate Bar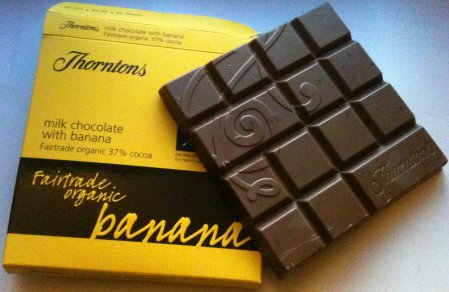 The first thing I noticed about this bar (after the bright yellow box and misprint on the wrapper 😉 ) is the smell.  Despite being a milk chocolate bar, it smelled of rich dark fruits for some reason and that just made me want to tuck right in and forget about the picture.
I broke off a piece and after placing it in my mouth I got it – banana.  It's like an intense piece of banana bread with a chocolate covering.  The chunks of banana through the chocolate are glorious and I find it is a shame it is such a sweet milk chocolate as I think if it was anyone but Thorntons, they might have risked a darker milk chocolate, balancing the banana off with a slightly darker, but still milk, chocolate.
I can imagine this being the kind of bar people get and enjoy.  Not everyone is a chocolate connoisseur and this, for most, will be the perfect balance of sweet, comforting, familiar milk chocolate and delightful banana.  And hey – banana is a healthy food so it makes the chocolate healthier, right?
Don't be put off by the dark-looking fruit in the bar as this is the banana and it is absolutely filled with banana.  What's even better is that this bar is fair trade.  The banana, cocoa, sugar, and vanilla in this bar are certified fair trade which shows Thorntons is committed to improving the situation for cocoa farmers.  Not only that, this bar is organic – fantastic!