November 2, 2010
Thorntons Dark Chocolate with Apricot Chocolate Bar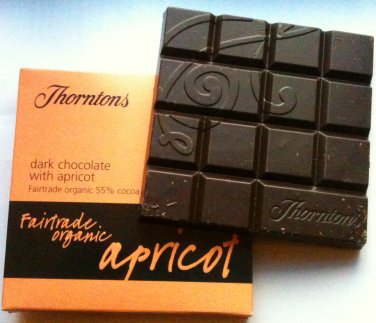 This darker chocolate bar with apricot is one of the new bars I was given by Thorntons to try out.  I have to admit, I like the experiments Thorntons have engaged in and while not all of them have worked out, I totally salute them.
This bar has lovely chunks of apricot – though not evenly through but that is the way it goes.  The chunks are small and they are tasty though not too sweet.
This bar is a 55% and I think just a hint of milk with the sweetness, making this a dark milk rather than a light dark 🙂 would be better.  The apricot I think makes this a really nice bar with enough sweetness to balance the bitter chocolate.  The apricot doesn't overwhelm the flavour of the chocolate and I think this helps make the chocolate more enjoyable.
The dark chocolate has a slightly bitter flavour but it is all in all a fairly good bar with fair-trade cocoa, sugar, apricots and vanilla as well as it all being organic.  Excellent job Thorntons – I wasn't a fan before but you're starting to convert me…