November 3, 2010
Devnaa Dark Chocolate with Almonds and Honey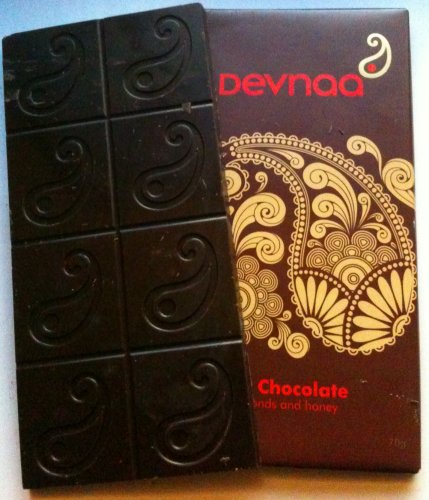 This Devnaa dark chocolate bar is very interesting.  The chocolate has a flavour and I'm not sure if it is because of the chocolate itself or that the honey which has been added had herbs infused into it but there is a distinctive flavour which is almost masala chai in flavour.
The almonds in this bar are chopped finely and I do prefer them whole but they are still delicious.  They aren't tiny pieces but more roughly chopped.  The dark chocolate has a rough edge which sometimes means a shorter conch time.  It is also slightly harsh but the honey and slight spice cover any imperfections.  The flavour is uniform through the bar and the honey doesn't sweeten the chocolate too much.  The balance between too sweet and too bitter is difficult and this bar stays on the perfect side of dark chocolate.
I think the unique flavour of this bar is going to make it a popular choice and one a lot of people choose this holiday season I feel.  While it isn't my top choice, I know others will love it.