February 21, 2011
Thorntons Chocolate Brownies Review & WIN A PACK!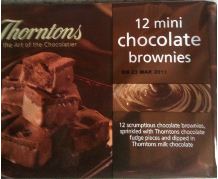 These small bite-sized brownies are sold inexpensively in trays of 12, making them ideal as a small party treat or as an excellent controlled portion size for kids.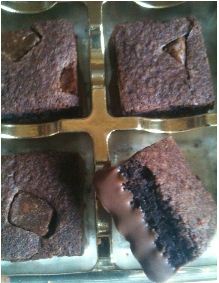 Each chocolate brownie has a base dipped in chocolate and most have a chunk of chocolate on top making these extremely chocolaty brownies.  They are dense and moist and sweet.  No bitterness here but also perhaps a bit too much sweetness for me to eat too many.
These are lovely though as a brownie. Soft, moist, dense and not at all just chocolate cake with a different label, these brownies won't disappoint.  They are right for the supermarket shelves and will be perfect for most people.
I think for me the caramel flapjacks are my favourite especially at 3pm just when the old blood sugar is dipping but these would be welcome in my snacks drawer anytime 😀
WIN A PACK! That's right, leave a comment here, comment on Facebook and/or Tweet "OMG @MostlyAboutChoc are giving away mini brownies! http://bit.ly/eZrGt5 : – ) " and I'll pick a winner Friday Feb 25th!