March 26, 2012
The Kings Ginger Liquor Reviewed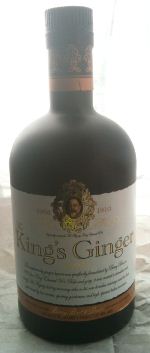 It was slightly weird the way I came to try the Kings Ginger. I have reviewed the Kings Ginger truffles from Charbonel et Walker and the liquor had given it an interesting flavour. I had been watching for a bottle when I went shopping but I was having rotten luck.  I was desperate to try it though, having been a fan of the truffles.
Finally in a stroke of pure luck, the lovely people at The Kings Ginger contacted me directly and upon hearing of my plight (worsened by the long hours I had been working) sent me a bottle directly.  SPIFFING!
THE King's Ginger is a liqueur specifically formulated by Berry Bros. in 1903 for King Edward VII.  According to them, it is a rich and zesty liqueur, created to stimulate and revivify His Majesty during morning rides in his new horseless carriage – a Daimler! Too cool – he needed alcohol to drive and we've got the complete opposite now.  It has apparently been appreciated by bon viveurs, sporting gentlemen and high-spirited ladies ever since.
The bottle itself is really something of a beauty. It isn't that it has been styled a particular way nor that it has a particular bottle shape but the soft finish to the bottle (rather than shiny glass, this has a soft, almost seemingly aged finish) combined with a very classic-looking label just look beautiful. I'm really taken with the bottle but it is what is inside that I think will really wow everyone.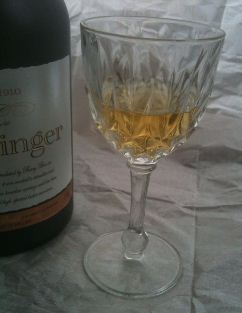 As I smell it I can clearly smell the ginger. This reminds me of the alcoholic ginger beer I've been drinking lately. I can smell this is going to be something awesome though and perhaps special.
The actual flavour is slightly medicinal I guess but I suppose it could be because I read up on it first that I'm getting that hint in the background. It could also be because this is the most alcoholic thing I've tried in a long time! WOW! One sip and the intense flavour of ginger and alcohol is amazing. It is like the strongest ginger beet you ever could imagine trying intensified tenfold.  This is going to be amazing in a cocktail and in fact they have a number of The King's Ginger cocktails on their website but I've sneakily included one here.
This is an intense tipple but well worth making the investment. It is going to make imaginative cocktails and a great after dinner drink on its own. I poured this into little dessert wine glasses but you could pour a shot or even better – make a cocktail!
The Ginger Royale
Ingredients
35ml The King's Ginger
140ml Champagne
Method
1. Pour a generous measure of The King's Ginger into a flute.
2. Add chilled Champagne to taste.