March 26, 2012
Demarquette Oceanic Reef Easter Egg Review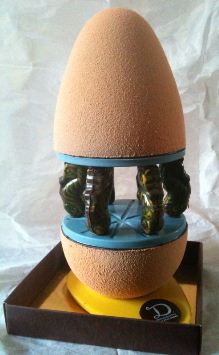 This Easter there are a lot of eggs for adults around. In fact, it seems like Easter is as much for adults as it is for kids these days! What that means is there for adults (and kids) there is a whole lot more quality around.  One of the most luxurious eggs this year comes from Demarquette who have decided for their theme at Easter to go with the ocean world.
This Demarquette chocolate Easter egg is fantastic. It is a stunning work of art as well as delicious. The egg is, as you can see, in two parts.  The bottom part has been created beautifully in thin, delicious dark chocolate.  The dark chocolate shell is quite sturdy and the blue disks are chocolate as well. The sea horses are chocolate and filled with caramel and the top is chocolate with the whole thing covered in white chocolate velvet coloured coral orange,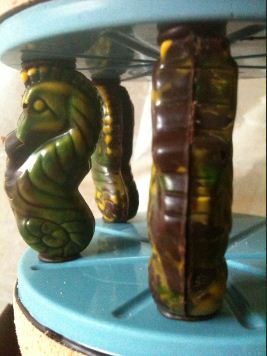 The egg is 20 centimetres tall and entirely edible right down to the supporting base of the egg that keeps it right side up. They are hand made using the unique Demarquette Pure Blend of single origin smooth chocolate. It isn't too complex and so I think that most folk are going to like it. A smooth chocolaty flavour, with a hint of brownie, it is yummy. Then you have this colonnade of six hand painted seahorses filled with sweet caramel which supports the top half of the egg. The seahorses don't hold too much caramel and each is lightly sealed so you can easily break them in half.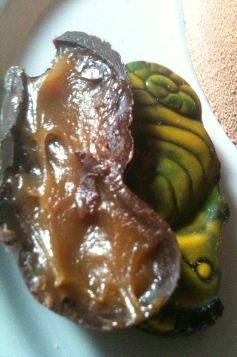 The seahorses are delicious though. The chocolate and the sea salt caramel are perfectly yummy. The sea salt caramel is thick and delicious, with darker hints and the chocolate doesn't get in the way of enjoying the caramel. The whole sea horse if more than a mouthful but breaking it in half is easy.
The egg itself is delicious and the seahorses are delicious as well. This is a beautiful, delicate and 100% totally edible egg. Why not choose an egg made from less sugar and without added vegetable oil, making it a healthier choice than most eggs this Easter.