March 25, 2012
Chococo Easer Half Egg With Truffles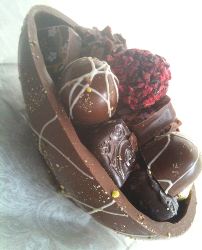 Chococo is ne of those chocolates who tries to push things a bit more. Always seeking to improve and always working to create something new for each season, Chococo is really working hard to stand out from an increasingly large crowd of chocolatiers working with quality ingredients creating something new.  You might remember their mulled wine ganache at Christmas which was such a delight – it was so clearly mulled wine with those red wine flavours combined perfectly with the spices in a great chocolate.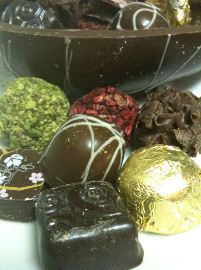 Once again, Chococo have created something seasonal and reminiscent of their cocoa pod delicious edible chocolate gift with its chocolate shell and truffles and ganaches inside.  This time thy have created a half Easter egg filled to bursting with ganaches and truffles.  This generous half egg has around 15 chocolates in it with at last two of each. I was happy to see some old favourites like the raspberry but also intrigued to try some new ones such as the pistachio and the chilli.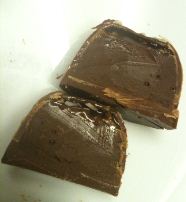 Hot cross bun: Mixed spice & candied orange peel in a dark chocolate ganache in a milk chocolate dome with a white chocolate cross piped on the top. Of course the first thing I went for was a dome but I was surprised to discover that this was not sea salt caramel but instead something with an intriguing floral liquid top with mostly ganache. It was jasmine-like in its flavour but it is supposed to be spice. All I can think is that I have eaten something weird for lunch… 😀
Raspberry Riot – dark chocolate, raspberries & framboise liqueur in fresh Dorset cream rolled in crushed dried raspberries. I love this one and have reviewed it before but still had to have a bite of one again – sharp and sour with slightly sweet but not too sweet – nummy!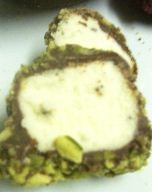 Green Spice – aromatic white chocolate & cardamom-infused fresh Dorset cream, dipped in milk chocolate & rolled in crushed pistachio nuts.  Not my favourite but not bad really 🙂 Here my own personal love of only crunchy nuts (borne out of a allergy to some raw nuts) made the soft pistachio less enticing. The white chocolate interior and flavour counter balance made this an interesting one. I think this is going to appeal to an awful lot of people because of the balance of flavours and the less intense cardmom flavouring. It really makes this what will be a crowd-pleaser.
Melting Milk – milk chocolate & vanilla-infused fresh cream rolled in curly milk chocolate flakes (Gold Great Taste Award 2007). An absolute all around winner, this was a bit sweet for me when I tried it but I happen to know a *lot* of readers are gong to like this because it doesn't try and dry your mouth out by being overly dark and bitter. Those dark chocolate fans among you might go for the raspberry riot or something else though.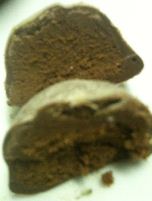 Chilli Tickle – dark chocolate & gently chilli-infused fresh Dorset cream dusted in cinnamon icing sugar (Academy of Chocolate Bronze medal 2005). The chilli chocolate wrapped in gold foil was a bit of an intense shock. Everyone handles chilli and chocolate differently and I was not surprised that this was wrapped in foil to prevent it making everything taste a bit of chilli. Hot and yet not as hot as others this chilli chocolate is really only for those who love that and only after you've finished the other, more delicate ones.
Passionfruit: pure passionfruit paste layered with milk chocolate & fresh cream in milk chocolate square You know I like this one because you know I like passionfruit jelly!  This has sharp and tangy with soft and slightly sweet ganache, balancing the flavours perfectly. I'm really enjoying this one and have eaten two so far… 😀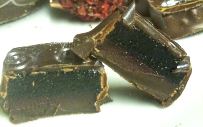 Blackcurrant: pure blackcurrant paste layered with dark chocolate, fresh cream & a touch of blackcurrant liqueur in a dark chocolate square (3* Gold Great Taste Award in 2009). Now this has been a real treat. It is a delightful also slightly tangy flavour with chocolate ganache but its darker than the passionfruit so different but still delightful. I'm liking the jelly, I'm liking the ganache, I'm not liking that there are only two though… 😉
Overall an interesting and different selection and with at least two of each chocolate yu know that even if the kids or your partner demand one (or more) you'll at least be able to try one of each chocolate.