March 24, 2012
Carluccios Scatola Di Uova Box of 4 Gianduja Easter Eggs Reviewed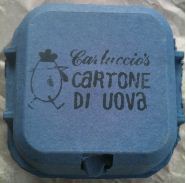 These are adorable and reminded me of my childhood. When I was young my mom used to hide eggs around the house and we each had an egg box and we could hunt & fill the box but then no more.  With each of these eggs individually wrapped, it seems like the perfect idea for hiding them (but these really seem like they are for grown ups!) and each 'kid' could hunt until they fill their box.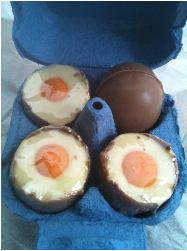 Italians have their own traditions for Easter.  Where other European countries have decorated eggs, Italians do not decorate hardboiled eggs, nor do they have chocolate bunnies. Seems kinda sad but at the same time they have their own rich traditions and those include the chocolate egg.  The biggest Easter displays in bars, pastry shops, supermarkets, and especially at chocolatiers are brightly wrapped uova di Pasqua—chocolate Easter eggs. They are usually hollow and like Christmas crackers have gifts inside them. These gifts can range from the simple to the grandiose. I was sent these scatola di uova were sent to me by the lovely people at Carluccio's and I was so lucky to get them because they were YUMMY!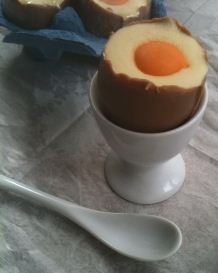 These 'eggs' are milk and white chocolate "hard boiled eggs" with a very smooth and lightly flavoured hazelnut gianduja filling. The chocolate pretend real eggs are made by filling a very thin milk chocolate shell with hazelnut gianduja before the thick white chocolate is poured on top and the egg is finished with the "yolk" being more white chocolate coloured yellow.  How cute!
The flavour was actually really nice. They are sweet but not too sweet. I think the hazelnut gianduja cuts the sweetness.  It isn't too strongly flavoured and isn't bitter like some are. I also like the swet white chocolate and I mean look at how thick it is! I went at it from the top and maybe I should have turned it over and cut it from the bottom. It is that huge!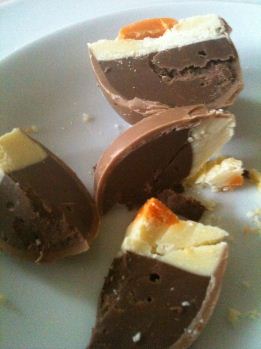 Each egg is a solid 60g of chocolate and gianduja and is more than a single sitting worth of chocolate. If you enjoy lots of chocolate, hazelnut gianduja and you're tired of buy one get two free Easter eggs, get yourself down to Carluccio's and get something different this Easter. You'll need time or friends to finish these though.