October 12, 2011
Tesco Organic Dominican Republic 70% Chocolate Review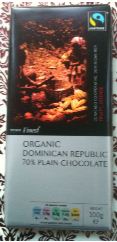 I swear when I bought this bar, I expected to hate it.  I filly expected to not only not include it in my High Street Top 10 blog post but also to be able to write a scathing review of the sub-par taste, perhaps over-roasted or over-fermented beans.  I thought the flavour would be flat as it was over conched or dead.  I expected to hate this bar.  Even my initial picture of the bar is fuzzy and I couldn't be bothered taking a new one as I figured I'd hate it anyway.
Regrettably I didn't hate it.  Unfortunately the beans have been treated sympathetically.  The chocolate may not be the height of chocolate perfection but it is a million miles away from a Bournville.  The shocking thing about this bar is that I liked it.  I genuinely liked the flavour, the balance, the mouth feel, and the finish.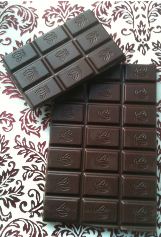 The actual bar has a slightly leathery flavour initially – not like chewing on a bit of leather but more like it has been left on a brand new couch. This very quickly mellows into a light raspberry flavour but with an almost woody spicy (not hot spicy – just the flavour profile of a woody herb) edge mellowing into a delightful deep brownie chocolate flavour with a light, clean finish.
Now, there *has* to be something wrong here surely.  This chocolate is actually too cheap to be this good.  It may have a Fair Trade mark but I know what each stage costs and how much it costs to create chocolate like this at any scale and based on that there is something going on here – maybe a special or someone screwed up their sums but this bar is too cheap.  Odd to say but true 😉