October 13, 2011
Moroco Chocolat Chocolate Dim Sum Lunch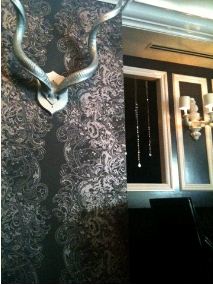 I decided to once again risk life and limb and perform YET ANOTHER unsolicited review.  Yes, I know, I was risking death or at the very least the displeasure of the owner who, as you may have read in my earlier review, does not allow unsolicited reviews of her cafe or chocolates.  Shame about the internet, right?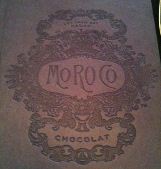 This time, knowing I was risking life and limb, I took a friend – Taste for Chocolate.  I figured together we could fight off the owner should she challenge us over our unsolicited reviewing.  Together we are stronger and together we looked less like lonely reviewers and more like a pair of friends out for an afternoon treat.  Ninjas would have envied the skills we exhibited that day.  So together we went in to Moroco Chocolat…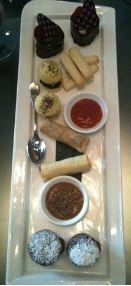 We perused the menu.  Now, knowing as be both did that the chocolate was Callebaut we were not expecting anything much more than middling so we wanted to find something imaginative and innovative and I think we did.  We eventually decided on Les Bijoux Sucrés.  Yep… a pretentiously French-named dish which is basically a chocolate dim sum.  Speaking of which I believe the Grand Imperial is doing one for Chocolate Week… but I digress.  So what, you may ask, the heck is a Les Bijoux when it's at home (or in English).  Well, it is a combination of Spring Rolls, Kiss Me Kakes, Brownies and MoRoCo "Burger and Fries" which is actually cake, chocolate and cookie fries and probably what made it worth getting.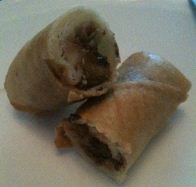 So we played along and ate the spring rolls which were actually yummy if you don't mind mediocre chocolate.  They were deep fried banana and chocolate spring rolls I believe and they were yummy enough.  Actually if you take away the novelty, they were the nicest flavour of all the food we tried that day.
Next we tried the Kiss me Kakes which were poor imitations of red velvet cakes – kind of like someone didn't understand what a red velvet cake was and tried to imitate it and it just didn't work.  That aside, it was a little too dry for me and bland with no distinct flavour.  This possibly needed something to moisten it more like more cream instead of the chocolate covering.  Then we delved into the brownies which I liked.  If you are a bite with a bit of raspberry they were really nice and well balanced compared to the rest of the meal.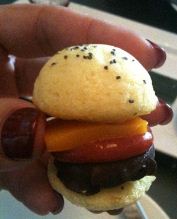 The biggest novelty was the burger and fries.  The burger was a cake bun, a chocolate meat patty (ganache and covered in chocolate – not a solid disk), the cheese was a mango jelly and the ketchup was some of the raspberry coulis. It was difficult to eat any other way than in a single bite but a single bite was a bit too much.  Still of everything I ate, this was the most fun.  Yes, I know, I'm supposed to be fearing for my life and scared my unsolicited review will get me killed and really it was somewhat underwhelming overall but then again, the burger and fries were a ton of fun and spending time getting to know someone who is as passionate about chocolate as me was also a ton of fun!  The fries were lovely shortbread cookies and really looked just like fries.  It was awesomely lovely and I really enjoyed them – especially when dipped in the raspberry coulis.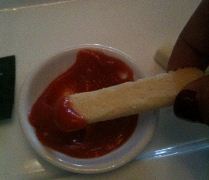 As a novelty this was fun.  At $28 plus tax (not including drinks – that was just the dish price!) for something that left my friend and I still hungry I really have to question whether it was really worth the novelty.  Considering the location I understand it but I know that they could have upped their game by using a better quality chocolate.  They are charging the kind of process that would seem to suggest they could, but at last check they don't.  Moroco could really change from being pretentious to outstanding by just changing the chocolate they used and balancing flavours against the natural profile of the chocolate but then again, I'm a chocolate snob 😉