October 14, 2011
La Mare Chocolates & Shop In Jersey (CI)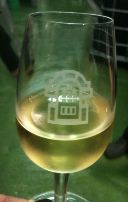 When I announced I was going to Jersey, a few friends began asking about timings so we could all meet up somewhere.  I had to explain to more than one person that I was visiting the old Jersey and not the new one stateside.  That caused some giggles and disappointment but as it was somewhere I had never been before I was looking forward to it.
While I was there, a trip had been arranged for me to go up to La Mare which was a winery and they had a resident chocolatier who was involved in making chocolates and fudge from Jersey black butter, the alcohol they produced and, of course, old favourites.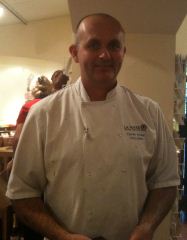 The chocolatier is Darren and here on Jersey he is working with Callebaut and the Jersey black butter they create among other ingredients.  Interestingly Jersey black butter is not burnt or anything but is made with apples and sugar and liquorice and other yummy things to make something that apparently tasted remarkably like the inside of a mince pie.  Not being a fan of mince pies I can only comment on the chocolates I tried 🙂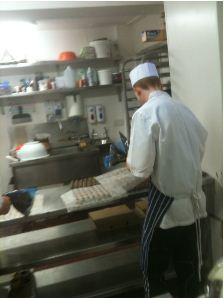 They work in a small area in the back of the shop but it has a widow which makes the workshop open for all to see so you can watch the tempering going on, the moulds being filled with chocolates, the shells being filled and more.,  They have a bit of Willie's 100% in the window and some chocolate fish as working on view is much like being in an aquarium I expect – you're going about your business and people keep stopping, pointing and staring 😀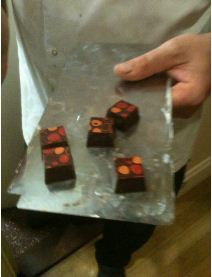 The chocolates are what you would expect of a chocolatier working with Callebaut.  The chocolate itself does not stand out but he's working hard to create something outstanding with things like the chilli and the Jersey black butter.  I think the Jersey black butter chocolate stood out specifically for me as it was the centre that stood out and came to the fore with the balance of fruit and acidity.  The chilli chocolate was extremely hot as he steeps the chillies in the cocoa butter for 2 weeks before using the cocoa butter in the chocolate.  Wow… if you weren't expecting the chilli from start to finish because there weren't any chillies visible in the chocolate, think again.  These will blow your head off.  Lastly we had some mint ones and the sugar calmed down the extreme burning in our mouths.
The shop is full of so many delightful things.  Mind you, you don't have to travel up to the vineyard as I did – you can buy this delicious range in town and also, if you're there before 6m, at the airport past security so if you're travelling on hand luggage only as I was you can still pick up some of this awesome local produce.
I had wanted to buy some apple brandy and chocolates but regrettably the shop was closed when I got to it airside in the airport as I was on a flight after the 6pm closing time.  I hope I'll get the chance to try it soon and also get some Jersey black butter chocs and a jar of the stuff to share around.  That's just some lovely stuff!