October 17, 2011
Devnaa Chai Masala Hot Chocolate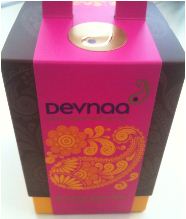 I'm a hot chocolate fan and yet I find that unless you get real chocolate and mix it in with milk it just doesn't work.  There is something about real chocolate in hot milk that just creates something special.  Devnaa took that and went one further by joining a chai tea latte with a proper real chocolate hot chocolate to create this winter warming delight.
As you can see, this packaging follows the lovely Devnaa style.  I'm a big fan of it and so really excellent hot chocolate is just the icing on the cake.  But bringing my fav chai tea latte which I used to have with my mom and grandma when she was alive just brought flooding back all those memories from that time when she was alive and well and we used to go shopping together.
So much love and emotion is tied up in that memory that anything chai these days has to be special and it really has to stand out for me.  It can't just have a little spice – it has to have that precise balance of ginger, cloves, cardamom and cinnamon and milk and flavour to really get me going.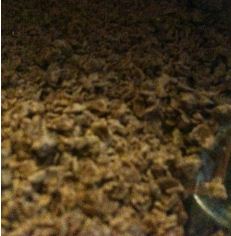 The scent of the real chocolate flakes, when you open the box, waft forth with hints of cloves and cinnamon but nothing really overwhelming.  There is the hint of something more but not really anything definite.  I wasn't sure if this subtlety was because I did not shove my nose in the chocolate of because of a weakness in the spice flavouring so I was pensive… was this just going to disappoint or was it going to fulfil the promise on the packet of a chai masala flavoured hot chocolate?  My grandmother is no longer with us and so it is a high bar to reach.
As I heated the milk then whisked in the hot chocolate, I again smelled the familiar spices coming through.  Sitting down and taking a deep breath through my nose as I drank the hot chocolate was divine. I was instantly back to the Starbucks with my mom and grandma and we were sitting and chatting as we waited for our chai tea latte to cool.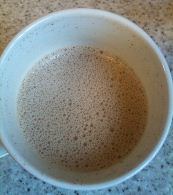 For me, this was more than just a delicious hot chocolate with just the right amount of chai flavouring – for me this was a memory of family.  This was more than just a mug of hot chocolate to me – it was a hug from my grandma before I left to go back to the UK.  While it might just be a lovely, lightly spiced mug of hot chocolate in milk to you with the right balance of cardamom and cloves balanced in with cinnamon and ginger, it'll always be something more to me.
Thanks Devnaa for bringing my grandma back to me, even for the briefest of moments.