October 11, 2011
Lucky's Tiny Pieces of Wonderland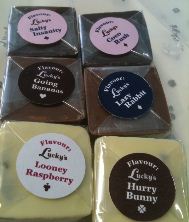 I had the good fortune to be gifted a box of these chocolates by the White Rabbit himself just before he dashed off to some very important date he claimed to be late for.  I scurried back home to try each and every one of these flavours so I could report back on their flavour in miniature size.  These are small and perfectly formed and just right for one person to enjoy.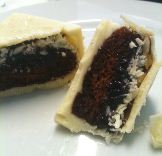 Hurry Bunny – cinnamon & blueberry compote in a 35% white chocolate – the cinnamon here overwhelms a lot but the blueberry does manage to push its way through.  The brownie is small and around two to three bites in size 😉  The flavours are stable if slightly sweet but I think that this is a fine brownie – but I'm a huge fan of blueberries, cinnamon and brownies 😀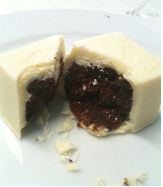 Loony Raspberry – Raspberry and pistachio in a 35% white chocolate – I like this one more than Hurry Bunny I think.  Less sweet but still flavourful, the impact of the raspberry on the brownie is enough that it enhances the flavours.  The pistachios aren't my fav but they are inoffensive and so overall this is a yummy brownie.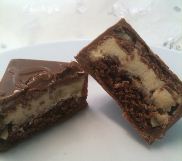 Lazy Rabbit – Bailey's ganache & walnuts in 40% cocoa milk chocolate – very boozy brownie this! The flavour of the boozy ganache certainly dominates but the sweet milk chocolate and walnuts also come through. This is sweet but anyone with a sweet tooth is going to enjoy biting in to this mushy wonder brownie bite.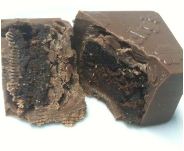 Going Bananas – banana and candied ginger in 40% cocoa milk chocolate – I have to admit this isn't my favourite. I'm not a massive ginger fan but it isn't too strong in here but the hint of ginger plus banana isn't a winner for me. The flavours aren't too strong which some may like but I would have liked slightly more aggressive flavours here.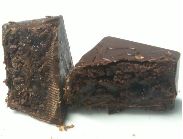 At this point my laptop seemed to think I was having far too much fun and feeling hungry it ate the rest of my post!  I can only assume that the delightful Sea Salted caramel chocolate brownie was just too much to resist as delicious as it was with the yummy runny caramel and the delicious brownie all enrobed in dark chocolate.  Perhaps it could not allow me to tell you just how lovely it was 🙂
The box is filled with delicious delights – six of them which I duly tried and mostly enjoyed.  It is a delicious assortment box and fun to receive.  It is slightly expensive but the use of Valrhona, thick chocolate coating, perfectly formed fillings carefully made and unique moulds.  This is a really unique product and one I'd love to receive (but may not give as I'd keep it for myself!).