October 10, 2011
Chocolate Dim Sum at the Grand Imperial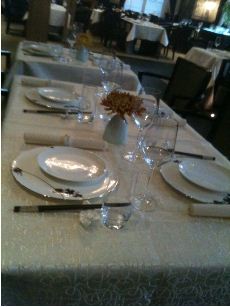 It was an amazing sight – tucked up a stairway at the corner around from Victoria mainline station was a gem. This glorious find is passed by by everyone except those initiated into it's secret & I'm here now to share with you more about its secret life.
This gem of a location is perfectly central & yet a world away. Around from the busy bus area and bustling Victoria station the Grand Imperial is a step back in time to the Victorian age with gold leaf on the Walls, black accents, marble pillars & chandeliers.  The tables are laid immaculately & the staff are attentive without being smothering. My guest & I commented on how it was both formal and relaxed.
We were seated next to an area which can be reserved for parties & closed off from the rest of the restaurant or left open, as it was when we visited. Opulence was set off dramatically against simplicity.
The chocolate dim sum is more of a dessert but there are also chocolate spring rolls, chocolate dipped fruit & more for you to indulge in. We had some lovely dishes chosen for us which were such a refreshing change!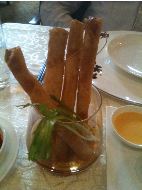 We started with traditional dim sum. I lack the appropriate vocabulary to describe how lovely these parcels of delight were. The pork bun was sublime and despite the bready exterior they melted in the mouth. The mushroom parcels were so good I think I ate almost all of them. The sea bass was so amazing I could have lived off it & nothing else. I just wish I could eat that every day. The way it was nestled within perfectly cooked crunchy birds nest-style noodles was amazing. The juicy dumplings were the best i've had since Japan & the chicken straws… Oh my, their take on the humble spring roll was shockingly amazing.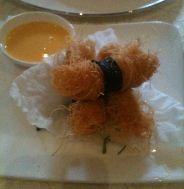 But the chocolate – oh the chocolate.
This place needs to go on your bucket list. You MUST visit here before you die & you must give it at least 2 hours of your time.
Representing authentic Hong Kong cuisine with contemporary flair, Hong Kong Cantonese restaurant and bar based at The Grosvenor hotel in SW1 is using Divine chocolate made with 70% cocoa for all its indulgent treats. These include London's first 'Chocolate dim sum platter', 'Divine chocolate spring roll', 'Deep fried ice cream' and chocolate fruit.  We did not indulge in all this!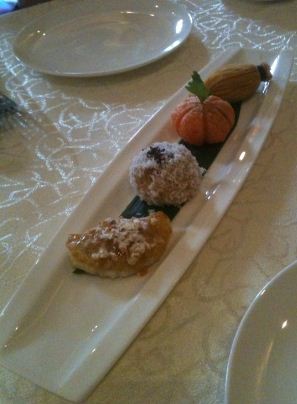 The chocolate dim sum we had was all made with the same Divine 70% chocolate but it all tasted different because of the way it was cooked. Each parcel was unique & amazing and I just loved them. Of course I had a favourite & it was the very first one we tried – the crescent.
Grand Imperial's signature 'Chocolate dim sum platter' (£6.00) features four fabulous delicacies, the 'canton cracker' which I thought was OK but I felt was more about the crunchy extremely delicate flake fried pastry than the chocolate, and had a slight orange flavour. Apparently this traditionally is filled with sugar and crushed peanuts and when deep fried the sugar almost liquifies. 'Pumpkin bundle' made with pumpkin and lemon zest which was OK but not my top pick. The 'cashew crescent' was my top favourite with the perfect ratio of buttery puffed pastry to chocolate and flavours. The 'coconut doughnut' rolled in coconut shavings and tangerine zest was a surprise favourite too as I don't like coconut and yet I found myself enjoying this as my second favourite pick!  This is a messy dish and delightfully so.  Those round balls are chewy and a bit tough to cut through.  If they were smaller I'd say pop a whole one in your mouth but failing that, pick it up and CAREFULLY bite as the thick filling of pure chocolate is melted!  Mucky is my missle name though 😉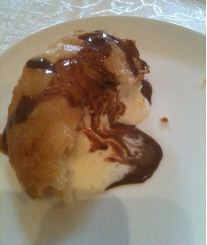 Grand Imperial's delicious 'Deep-fried ice cream' (£8.00) – a favourite Asian dessert was next up for us and we were starting to flag.  It was delightful and messy as all heck!  This was so much fun before moving on to a dessert I really think deserves its own blog post.  I mean, the deep fried ice cream was lovely and the batter was light and a dream and it was great but wow…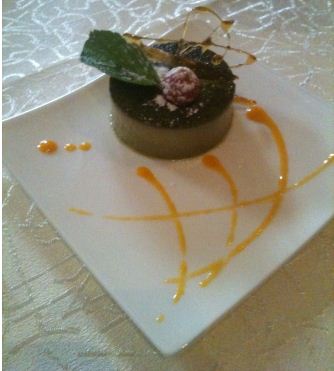 The Matcha Brule – a crème Brule only made with matcha was an intense delight.  This used some of the best quality matcha tea I've ever tried – and I've been to a number of Japanese tea ceremonies and tried a lot of matcha – and created a crème Brule a la matcha to absolutely die for.  I'd come back for just this as a single dish and with the tea – OMG I haven't mentioned the tea!
The tea we were served is the most floral Oolong I have ever had.  It was a joy to drink and as it steeped it only got more floral and not at all bitter.  The tea was a joy and a half!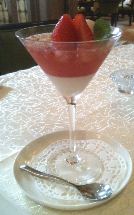 Finally we had lychee and strawberry jelly.  It was light, clean and refreshing in a way I had forgotten food could be. Delightful and palette-cleansing this dessert is perfect after a Dim Sum of any kind to cleanse the palette and refresh.  Wow.
So all in all a highly recommended experience to my mind. If it wasn't for the chocolate dim sum it would still be a highly recommended experience. Just having a drink there (like a popping boba cocktail) is an experience but the dim sum is go die for.
During chocolate week, make sure you try this gem – and if you're feeling guilty add the chocolate dipped fruit for more of your 5aday 🙂