August 2, 2015
Summertime Chocolates to Chill from Hotel Chocolat COMPETITION (UK only)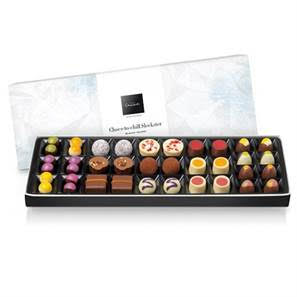 Summertiiiiiiiiiiiimmmmmeeeee and the livin' is chilllllllllyyyyyyyyyy….. Chocs are juuuuuuummmmmpiiiiiing and the centres are luuuuuuuuuuuuuuuush…
I know – don't give up the day job (well, part time day job 😉 )
It's unusual to actually chill chocolate in the fridge and it's something I am always telling people to *not do* but in this case Hotel Chocoat have specifically formulated these chocolates to be put in the fridge and eaten cold.
Of course, don't just take my word for it – Hotel Chocolat says "Pop in the fridge to chill, pop in your mouth to thrill. Chill out with this special summertime selection of exquisitely fruity and tangy truffles like our tangy Passion Fruit Bombe our Mojito with zippy lime, frisky mint and a tingling shot of rum. These recipes are even better served after being chilled in the fridge for 30 minutes. Perfect for sharing on endless summer afternoons with friends, or for lifting up even the cloudiest summer day."
Sharing? Sharing with me and me and of course me? Sure! I can dig that! Sharing with other people… weeeellll…
I'm a bit Hotel Chocolat fan as most of you know. It's my happy place and as I write this I am enjoying some 40% milk chocolate covered caramelised salted caramel almonds 😀
But Hotel Chocolat have created 3 different collections for you to try if you'd like to try chilly chocs: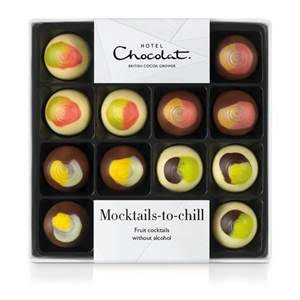 Mocktails to Chill – £10 – Refreshingly fruity mocktail chocolates with tangy real fruit flavours. Inside, you'll find 16 chocolates in four different recipes: Spiced Pineapple Punch, Peach Iced Tea, Virgin Mojito and Wild Strawberry Daiquiri. Our mocktail chocolates make delicious party pieces at room temperature, but they're even better if you play it cool. Just chill them for 30 minutes and serve up a unique summertime chocolate treat!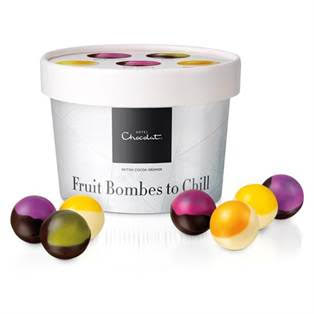 Not a booze-er like me? Have a try of these: Fruit Bombes to Chill – £9 – Our finest fruit bombes in five flavours. Blackcurrant, lime, lemon, cherry and passion fruit chocs to chill with the perfect contrast of real fruit tang and smooth chocolate, best served after chilling for at least 30 minutes. Perfect for sharing on long-shadowed summer afternoons. Pop in the fridge, then pop in your mouth
Wanna go large? There is the Sleekster for £22 which I am giving away 2 of!  38 exquisitely fruity and tangy truffles all in a single box and these are the ones I AM GIVING AWAY!
Thanks so much to Hotel Chocolat I am giving away TWO BOXES of these chocolates – one each to two winners! So you have 2 chances to win and I've made sure to give lots of options to win. I feel that it is easy to leave a blog comment so that this the required entry. After that the other bits are optional but increase the number of entries you have in the competition. So I have TWO prizes and so TWO different people could win!
Your comment must be a minimum of 10 words and should describe your favourite Hotel Chocolat chocolate such as their single origin bars, chocolate covered nuts or champer truffles or something else. It has to be over 10 words and has to be about a Hotel Chocolat product.
After that additional entries are for following me and/or Hotel Chocolat on Twitter, tweeting the special tweet exactly with no edits, visiting the Mostly About Chocolate Facebook page and other bits.
There are always rules of course. This is being run through Rafflecopter and the Tweets are additionally being tracked through a hashtag tracker.
1.The competition will finish on Saturday 15th August 2015 as per Rafflecopter widget.
2.The selection of the winner will be selected by Rafflecopter and verified by hand to ensure entry complies with the rules.
3.Only available to UK mainland addresses.
4.No cash alternative available.
5.I reserve the right to exclude entries that I feel are inappropriate (for example, change the tweet or do not leave the minimum 10 words) or are not in the spirit of the competition.
6.Your details won't be passed onto anyone else except your address to Hotel Chocolat so they can send you the chocolates and will not be kept in any way.
7.I reserve the right to remove entries that I believe aren't human created or are an attempt to gain an unfair advantage such as automated entries.