January 20, 2010
Stubbe Chocolates in Toronto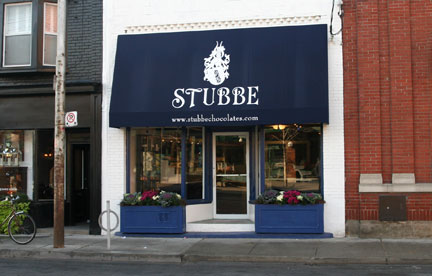 Stubbe chocolates are some of the best chocolates in the world.  This is the conclusion I have come to after trying chocolates in various cities across the world and while limited in experience though I may be, this chocolate shop is absolutely fantastic.
Stubbe chocolates creates some of the best chocolates by pairing good quality chocolate they create themselves in the back of the shop with both traditional and non-traditional flavours.  The one chocolate which stood

out for me was the blood orange chocolate which has a slightly sharp tang without being sour.
The special milk chocolate truffle had a unique sugar fronting which I thought would make the chocolate far too sweet but in fact was perfect when savouring or chewing the chocolate.

The cappuccino was a triumph of coffee flavouring, which was for once not overpowered by the sweetness of the chocolate.  The white chocolate was used masterfully here to sweeten the coffee without it tasting of nothing but sugar the covered in a beautifully balances dark chocolate.
I wish I could get these chocolates more regularly but have to settle for my annual trips to Toronto.
I highly recommend this chocolate shop and would be confidant buying any chocolates from here as a special gift.