July 11, 2011
Scharffen Berger Bittersweet 70% Chocolate Bar Review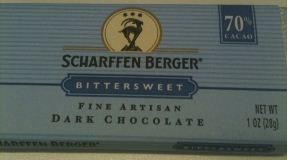 Something is bittersweet when bad new and good news are mixed together. When my grandmother passed she had been living a terrible existence for four months and so her passing was both extremely sad for me and yet it was a release from the prison she had been locked in to. I love her deeply and miss her terribly and yet I take comfort in the fact that her funeral was standing room only and she had a hugely positive impact on all the people around her. I can only hope to aspire to be that important to that many people.
The bittersweet chocolate from Scharffen Berger chocolate is also the reason I ended up getting in touch with the company. While I usually try something I've bought, ask the staff in the shop questions and leave it at that, I've now started contacting companies where I feel perhaps either the chocolate has been misrepresented or something else has gone wrong and I feel that the company deserves a second chance as I did here.
The first time I tried this chocolate (at the same time as others in the shop), I got a very distinct note which was not red fruit. I am not sure if it was due to storage or something else but it clearly was not what the shop assistant who offered it to me said it was. When I informed her what I thought it tasted of, she looked at me as if I was stupid and steadfastly asserted I was wrong (who had just tried the sample) and she was right (who had tried it under controlled conditions and not the current sample). That led me to contact the company.
As a result of my enquiries, I got sent a number of bars, the centrepiece of which was this one – the Bittersweet bar. I was send a few small ones and a couple of larger ones. Given my previous tasting I was justifiably worried and yet I was going to try it regardless since that was why I had been sent them.
First impression was that there was more of a snap here. Clearly better tempering and this bar was well within its stated expiry date. The scent was typical of American chocolate which I now realise is somewhat distinct. Having grown up with a particular style of chocolate their tastes apparently run towards a specific type of treatment of the bean and I believe here that treatment has been balanced off with the best treatment for the bean.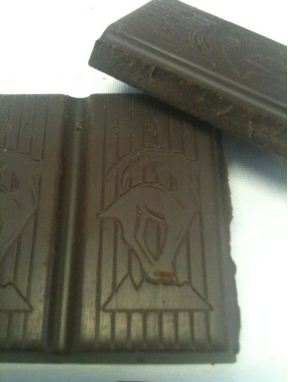 With clear scent and snap, I tried a piece. Now, back when I tried this and the shop assistant asserted that it had the flavour of red berries, I tasted rubber (and nothing else). Despite enumerating my credentials to actually prove that yes, I knew what I was talking about and that flavour was rubber in truth, not my imagination, the shop assistant remained unconvinced. Now I know why.
While not as powerful as Soma's Chuao or their "Dancing in your Head" or their "Dual Origins" or really any of their bars from Madagascar or Venezuela, it does have a distinct fruitiness. The flavour of the red fruit is subtle and does not come to the fore with a delightful acidity but it is a more gentle development, fighting through a touch of earthiness as it comes through to emerge subtly at first but then with increasing persistence. I now understand why some in the chocolate community rave about this bar. A far cry from what I tried in the shop in San Francisco, this chocolate has a really interesting flavour that changes and develops with time. It is delightful, complex and yes, my precious fruitiness is in there with lush ripe red fruit.
Of all the bars of theirs I tried, this had the most complexity I feel. I think of all the bars I tried, this is the one I'd choose myself (except the milk with almonds… That was awesome too ;-))