October 6, 2011
Prestat Earl Grey Tea Milk Chocolate Wafers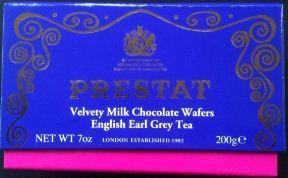 Thin, delicate, and filled with earl grey tea, these wafers are "wafer thin" (to quote Monty Python).  I was lucky enough to get a box of these and I tucked in to them with a voracious appetite.  Well, I took one, broke it in half and popped it into my mouth.  I'd like to give the impression, however, that I ate lots.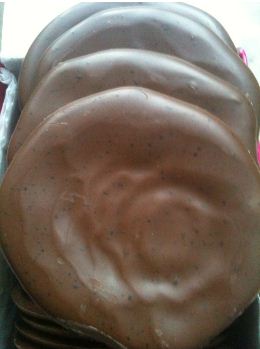 The chocolate itself is sweet and filled with little bits of earl grey tea.  As you can see in the picture, each disk of thin milk chocolate is liberally studded with tea leaves of the Earl Grey variety (that is, black tea flavoured with bergamot). This infuses the chocolate with a delightful tea flavour and a hit of bergamot.
I have to admit that these are sweet but I think that they are balanced off nicely by the tea actually.  I let them melt in my mouth and ate about three so they got a little bitter by the end but really they aren't that bad overall and maybe if you don't stuff face like I did and are a little more lady-like (as I started out with the first half, before I then pigged out) you'll not get that slightly bitter tea edge.
It's a really unique and fun chocolate and despite the large number and really delicate and thin nature of the chocolate none of mine were broken that I could find in the box so you'll always be sure if you give them as a gift that you'll be giving something which will arrive in perfect shape.